Prologue.    Not surprisingly, the seeds for this adventure started in the American West. In 2012,  I discovered the White Stallion Ranch. This magical place outside of Tucson, Arizona, has changed my life in many ways. Besides the obvious nurturing of my inner Cowboy, it has introduced me to many fascinating people from various corners of our planet. One night on my first visit, I sat around with eight British citizens and took the heat as the lone American. Growing up in New York City, I am very comfortable as a target, but we learn how to be resilient, we constantly work on our moves, and we shoot back! After some sparring, I gave them the Beatles and Stones but claimed a win in the Revolution and reminded them of that tea floating in Boston Harbor. That night gave birth to some enduring friendships. Over the next few years, the circle grew. On several occasions we welcomed British Cowboys and Cowgirls to New York City and dreamed of a time when our dusty boots would walk their streets. In November 2016, the stars aligned. My wife wanted to go to a Trade Show in London and I thirsted for a new adventure…
We would have ten days. Six on the wrong side of the road and four in London. We formulated a rough plan that mixed sightseeing and visiting. Long morning drives were the norm, a lot of beer, a lot of chocolate and BBC Radio 2. It was twenty nine years since my last visit. Rick Astley was number One. Expectations were high.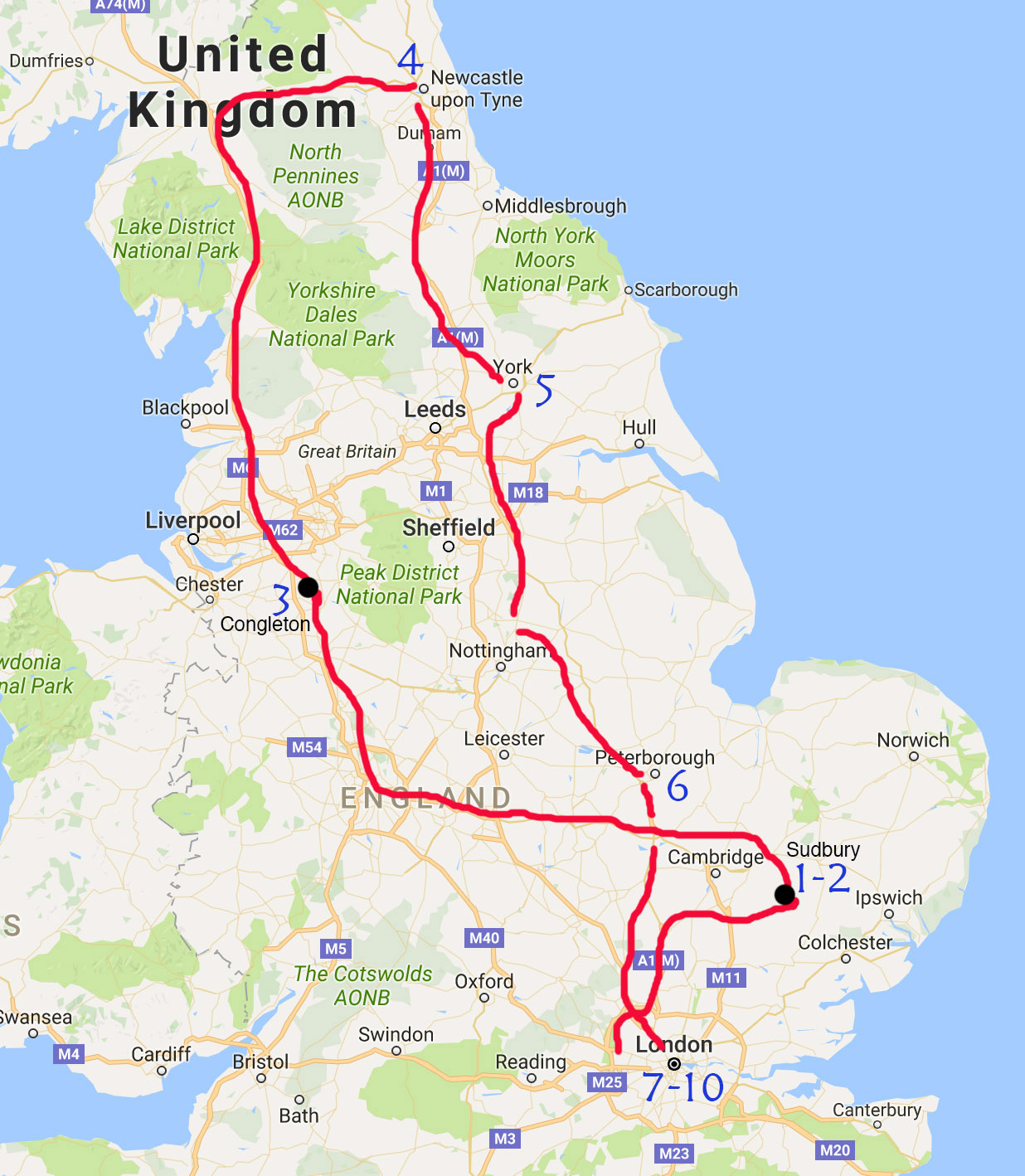 On to Sudbury.   Our flight was uneventful. I trespassed into half of the empty seat between us and enjoyed two movies. Decent food and a convenient and quiet bathroom after passport control had me feeling well prepared for the coming challenge of exiting the car rental area at Heathrow. Our silver Vauxhaul Astra was similar to the car used to drive the challenge course on Top Gear. I got in. It was pretty tight. Where was the steering wheel?
The short drive to the M25 was a wake up call. I'll stick to the story that having not slept at all on the flight that landed at 6:20AM was the reason the Astra repeatedly assaulted the curb with it's passenger side tires.
Our first two days would be spent with great friends located about ninety minutes northeast of Heathrow Airport. Lorries flew by covered with unfamiliar signage. The motorway was buzzing with Friday morning activity.  Driving uncomfortably and somewhat erratically on the left side of the road I carefully courted the five speed manual transmission. My steadfast navigator was torn between reading our map, starting her knitting project and embracing her will to survive in the shotgun seat. It was trial by fire.
Lavenham. We arrived safely in Sudbury around half eleven and as luck would have it stumbled right onto our hotel. For our first two nights we would sleep in a converted mill alongside a willow wrapped waterway awash with swans and assorted waterfowl. A section of the old wheel turned slowly inside the bar, the soothing sound of falling water accompanying our nightly beverages. It was in this lounge where I first learned that English bartenders do not expect a tip, a practice that I am still somewhat uncomfortable with. After several failed attempts, I figured out our phone plan, heard some familiar voices and our friends picked us up shortly under the willows. We were off to Lavenham!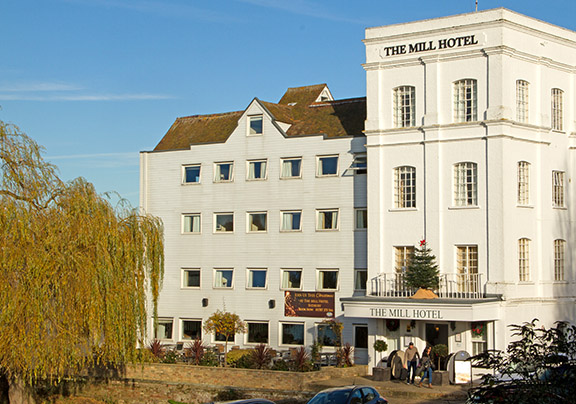 In the 15th and 16th century, this wool producing town in the heart of Suffolk was one of the twentieth wealthiest settlements in England. It's half-timbered, crooked cottages and narrow lanes were the perfect first stop on our journey.
Many of our acquaintances know that in NYC, Friday night has always been pizza night in our family. We continued this tradition with a delicious dinner at Sudbury's Pizza Express. Ironically, our friends here celebrated this tradition with us when they visited NY two years ago.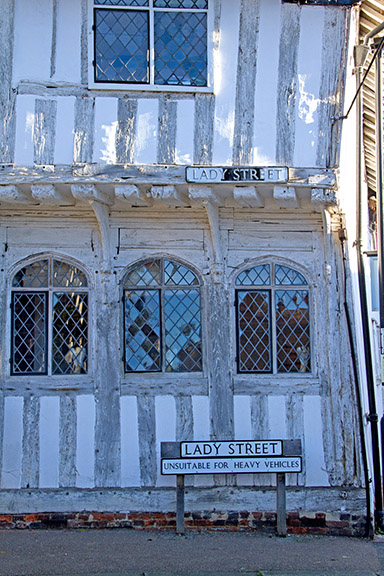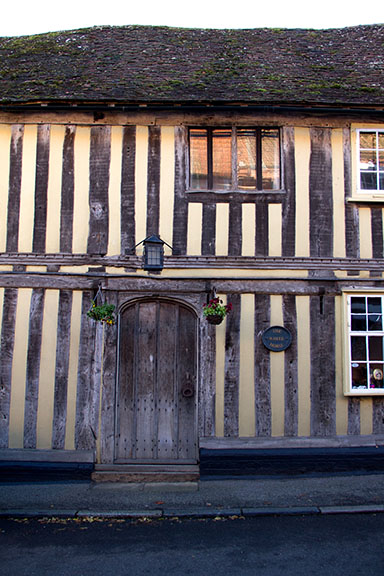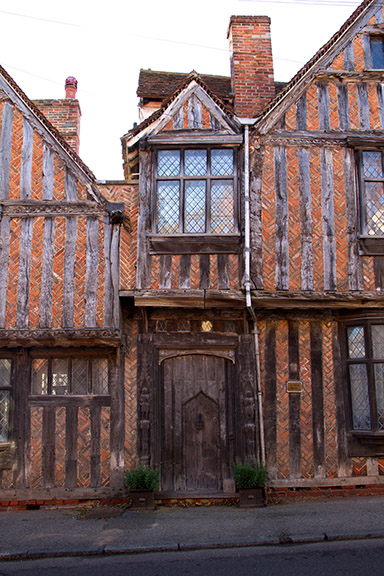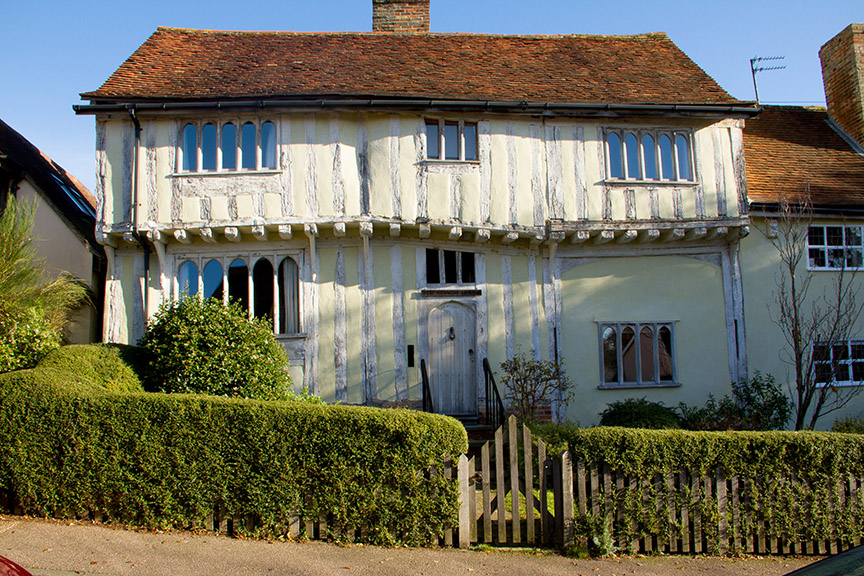 Cambridge. After an early morning stroll and breakfast in Sudbury, we joined our friends and drove through the fog to Cambridge. Commencement was on and the town was festive and full of visitors. After visiting the world-class Fitzwilliam Museum, we punted the Cam as the sun sank towards the horizon.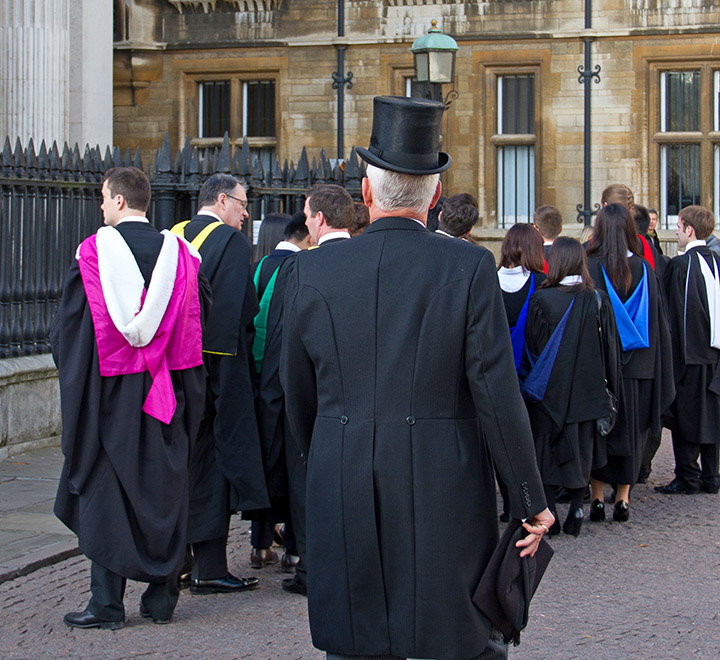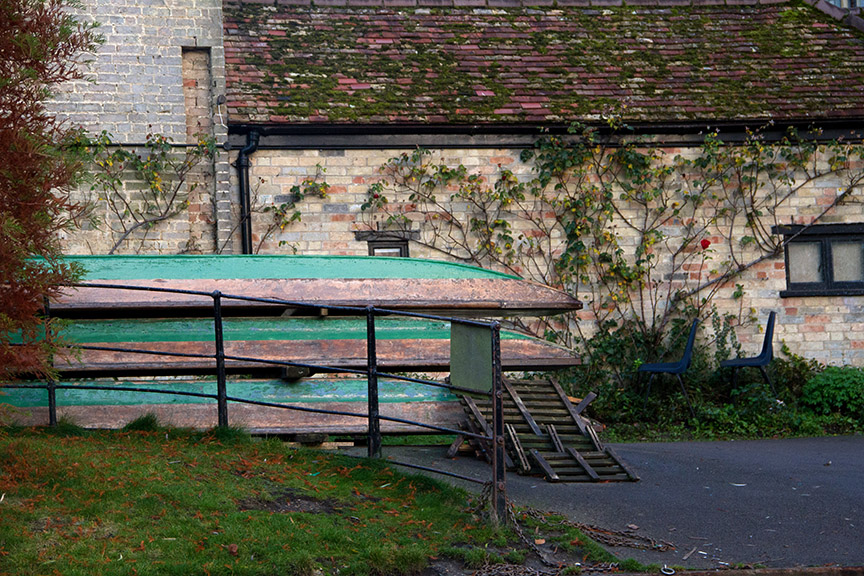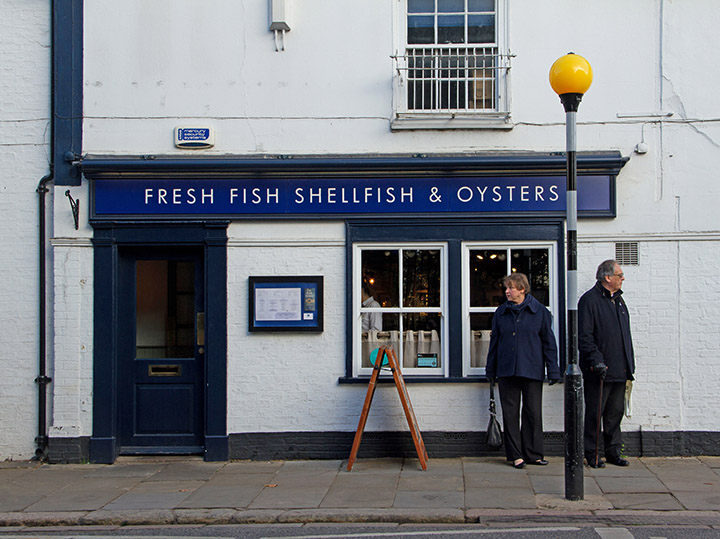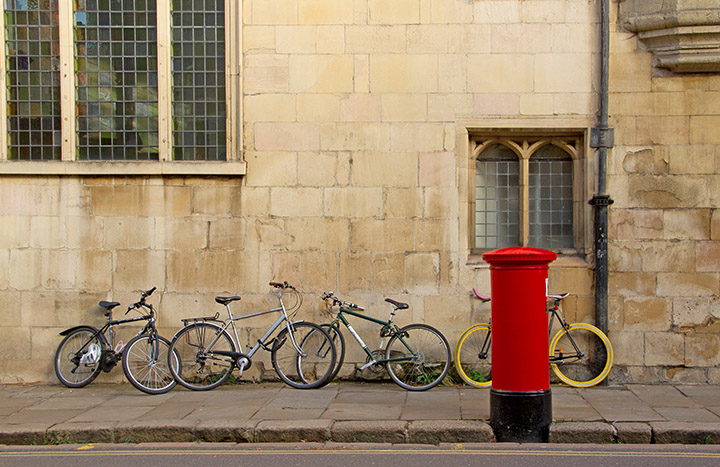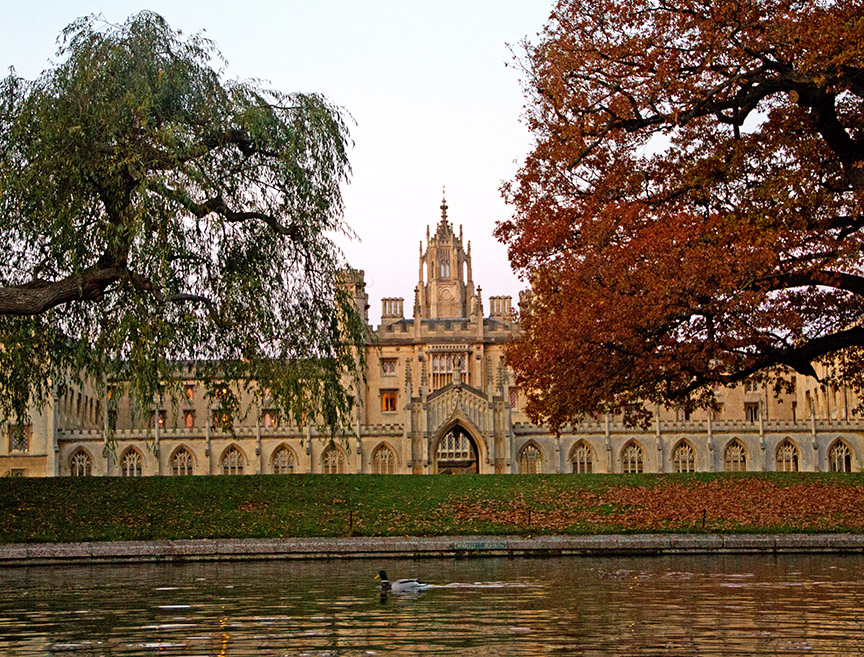 Our day ended with a memorable dinner at Sudbury's Secret Garden restaurant. The owner was a friend and golfing buddy of our host. The four of us wined and dined in a timbered room built in 1473. Columbus was a mere child. America was only an idea. We strolled the dark medieval streets back to our hotel for a farewell drink by the wheel. It would be a long drive in the morning but we didn't want this night to end…
Congleton, Cheshire. Our destination on Day 3 was Little Moreton Hall near Congleton. We estimated about a three and a half hour drive, a good distance to try and get comfortable with the British mode of travel. All went relatively well. Breakfast at Starbucks was a piece of cake. I learned that you pay for your fuel AFTER filling your tank. If only I could have figured out how to shut off that pesky rear wiper blade…
Upon arrival, we were greeted by a fairytale, moated, half-timbered manor house. Started in 1504, the Hall grew and eventually was acquired by the National Trust. My wife's excitement fulfilled her expectations as we explored the property and took the informative tour. During a nice leisurely lunch under the timbers, we booked a room in nearby Crewe for the night. This is the town where all Bentleys are manufactured. Plans were made to dine with a couple we hit it off with five years earlier at the Ranch. They took us to their local pub, the beautiful Badger in Nantwich, for a laugh filled evening and our first Sunday Roast with Yorkshire Pudding. We are hoping to welcome them to our city real soon.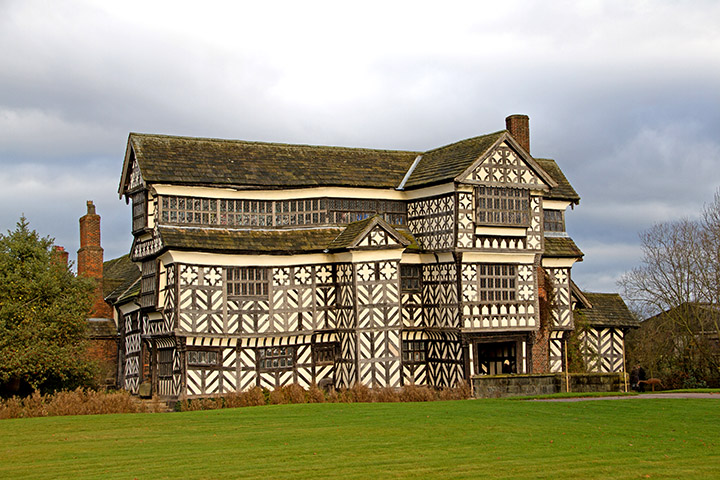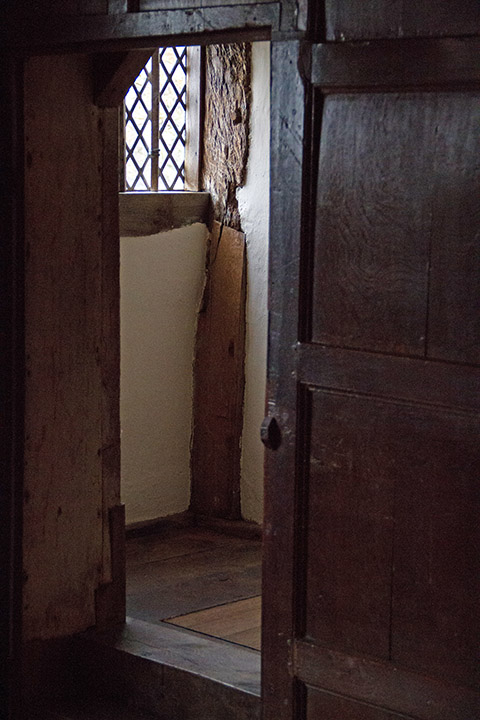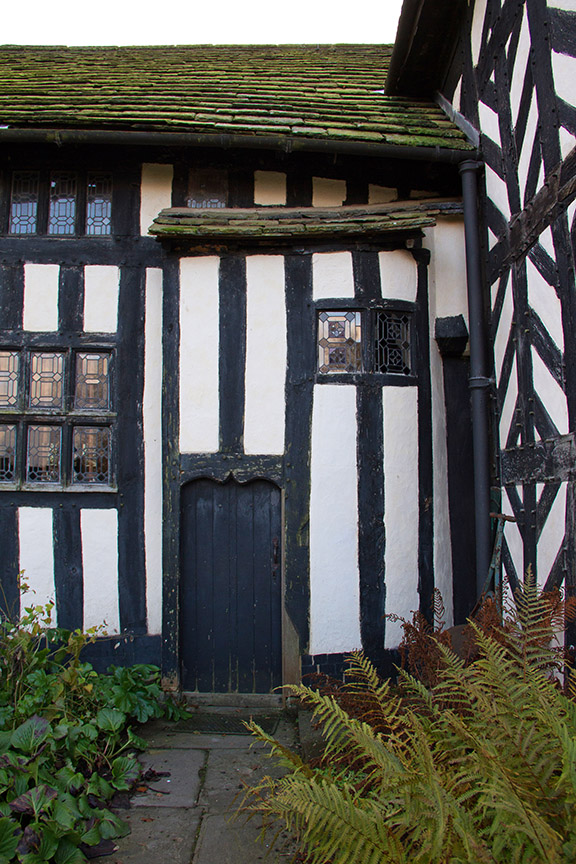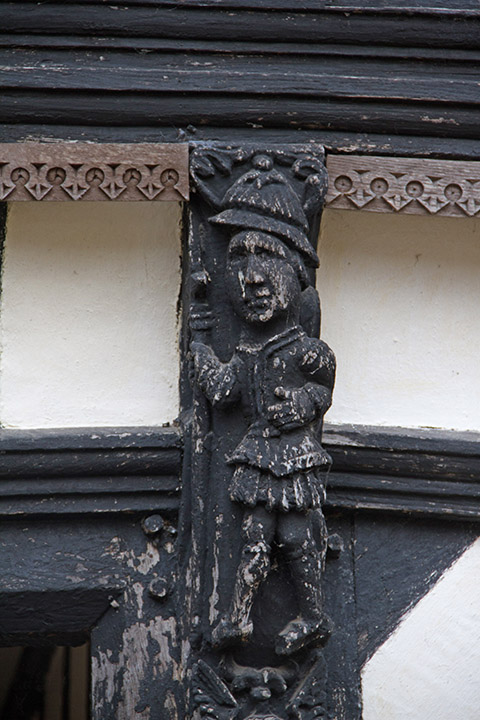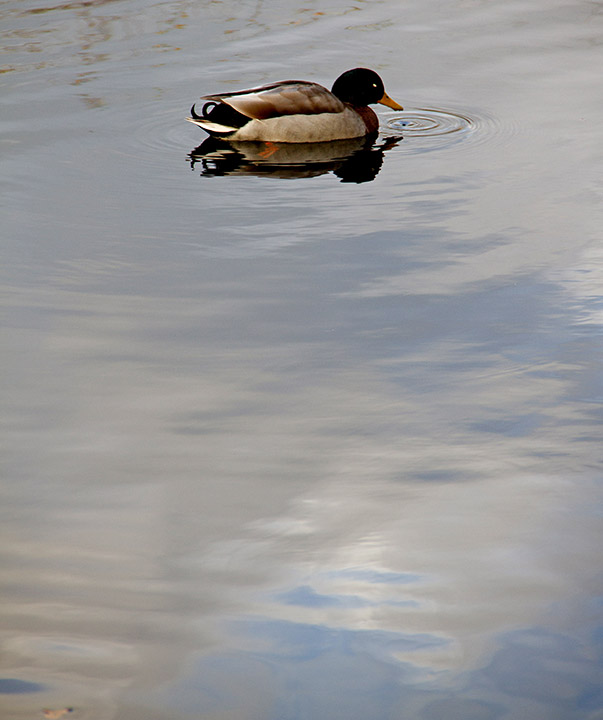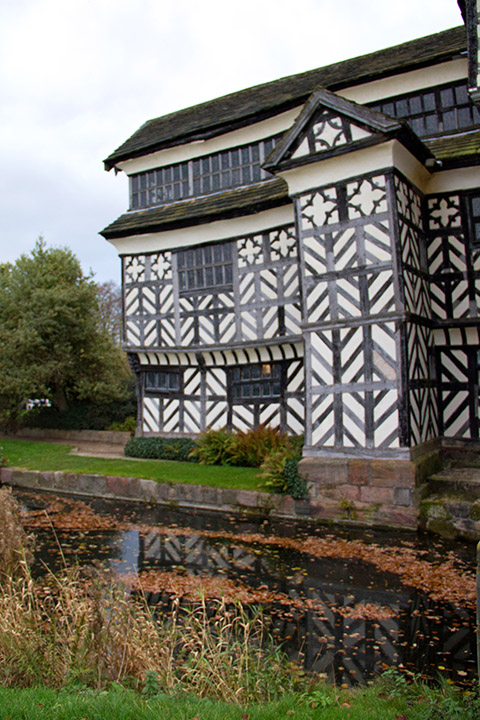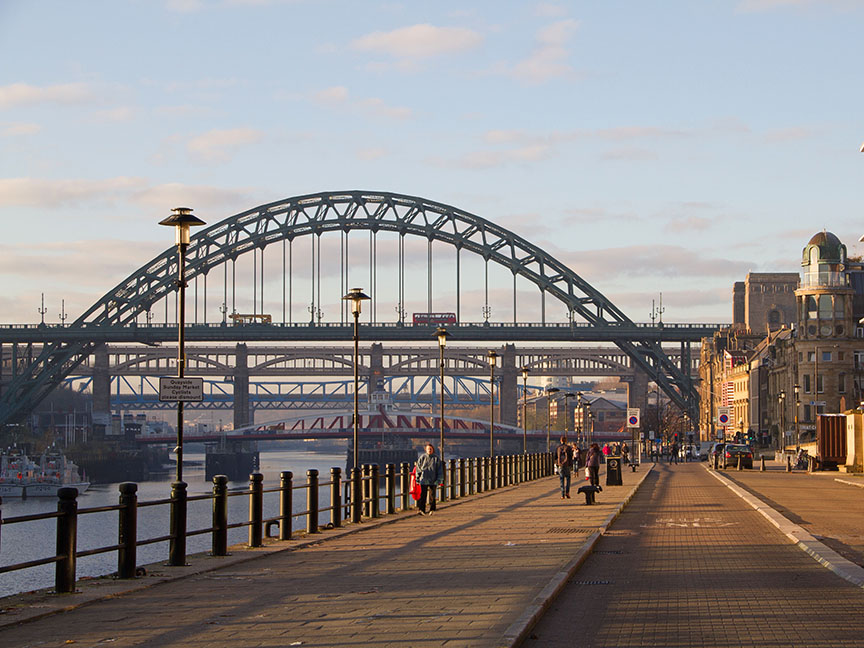 Newcastle. My wife does a lot of research prior to a trip. This led to the discovery of a fun shop called RE in the quaint Northern town of Corbridge. Our app recommended a route up the western edge of England that would split the Lake District and the Yorkshire Dales. As we passed signs for Liverpool, Paul McCartney was on BBC2. Really. Six miles from the Scottish border we would go east along Hadrians Wall to Corbridge. From there it was a short hop to Newcastle. All went well until I overshot the picturesque center of town with no RE in sight. Frustrated, I impulsively hung a u-turn on the hill exiting the village and sped back to continue our search…right into oncoming traffic! Oops, wrong side of the road. We lived, we shopped, we pushed on to Newcastle and arrived Quayside.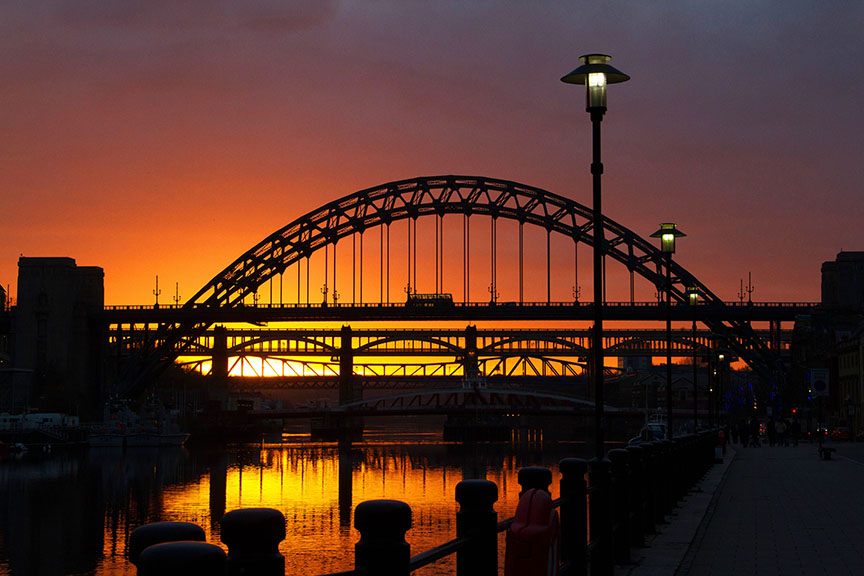 Newcastle-upon-Tyne is the city of Sting and Mark Knopfler, two of my favorite artists. The River Tyne dominates the city and has been re-vitalized. The Baltic Flour Mill is now a world class contemporary art museum and close by sits the Sage venue, an impressive architectural statement. But, it is the bridges over the river that spoke to me. The old Tyne Bridge has been copied worldwide and the Millenium Bridge became more spectacular at night. Our hotel, The Malmaison sat Quayside and afforded us a great location from which to explore and meet more friends that we recently saw on their visit to New York. We all walked along the illuminated Tyne, the night was cold but the warmth was enveloping.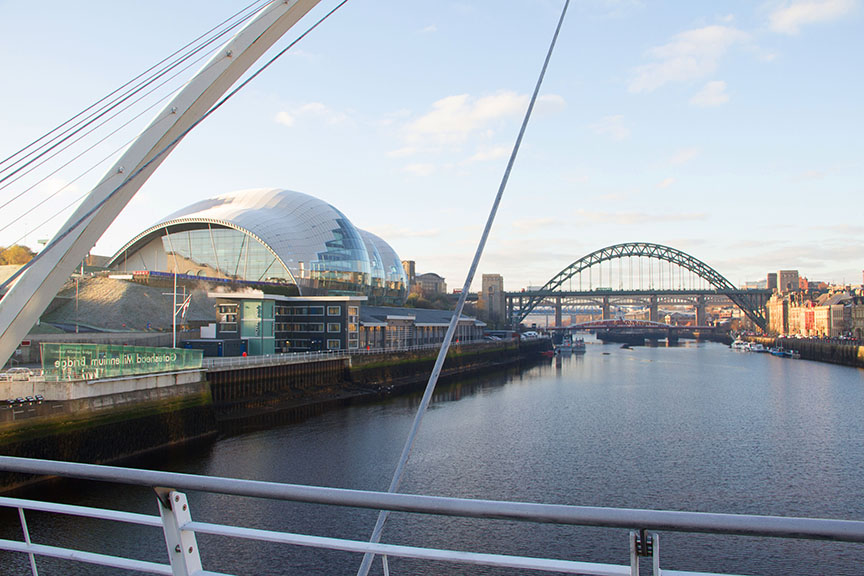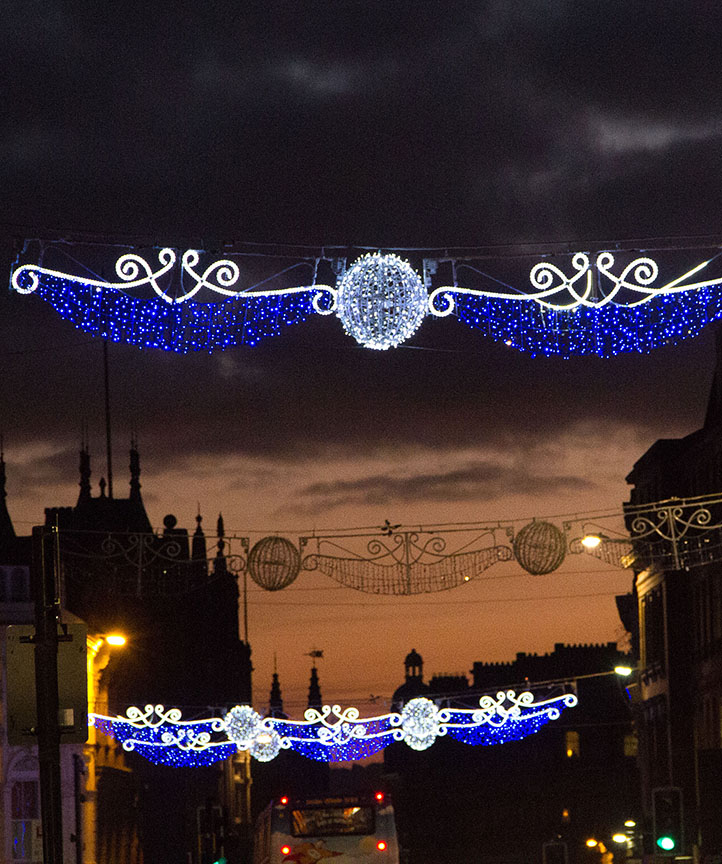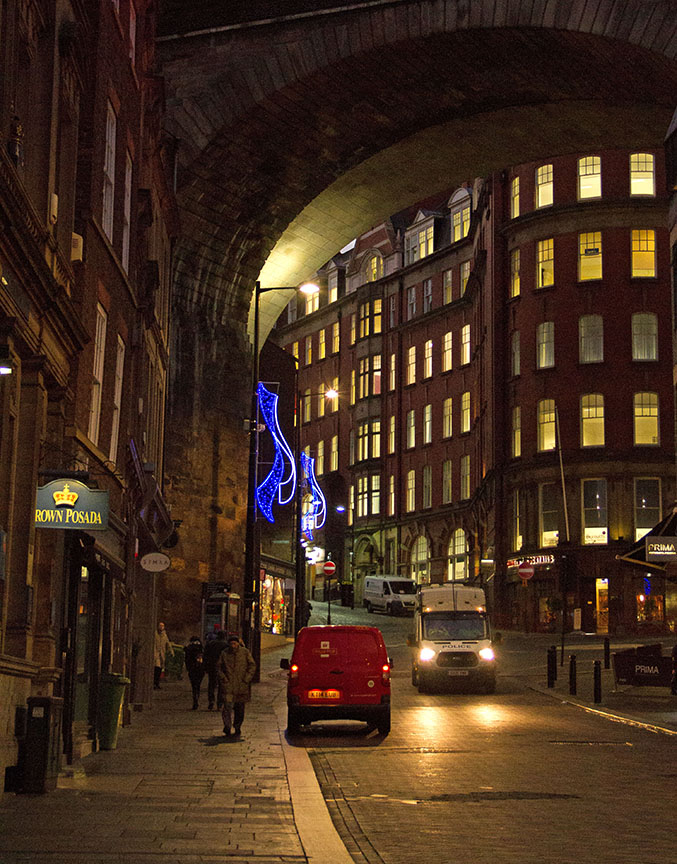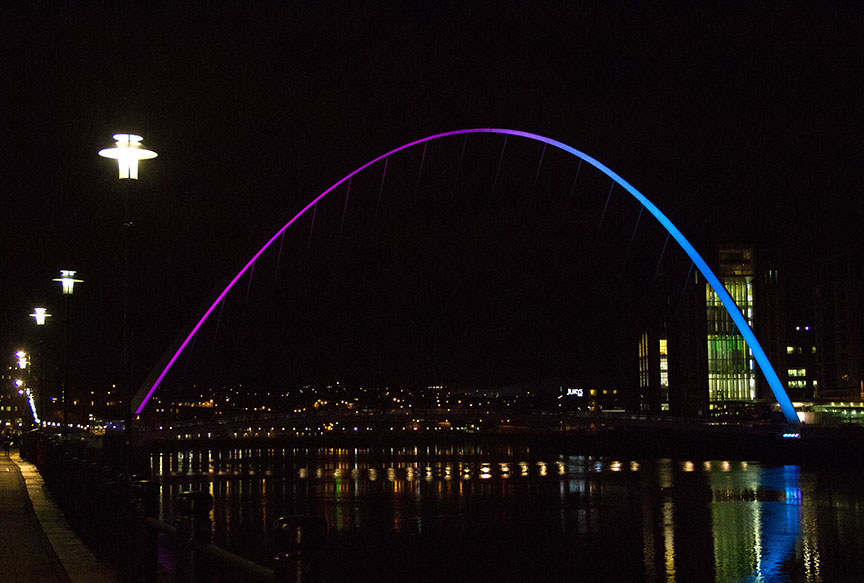 York. We looked forward to a shorter morning drive and an early arrival in York. Countless roundabouts slowed our progress but my navigator was on her game and we pulled up across from our hotel well before noon. As luck would have it, a room was ready and parking was directly in front of us in a very old garage. I was elated by this morning's good fortune. After several carefully calculated maneuvers, I parked in our minuscule assigned spot. Tightly squeezed between the boot and the wall, I extracted our luggage. With my best Twister move I grabbed my trusty camera bag from the back seat and jauntily headed for the exit towards our hotel. Another visitor's shouts stopped me in my tracks… "Excuse me! Is this your case?"  In my exuberance, I had left my suitcase next to our car, smack dab in the middle of his space.
Founded by the Romans, this walled city is dominated by it's 13th century Gothic cathedral, the York Minster. A great walking town, during the day the streets were crowded with holiday revelers but the night was deserted and serene as we walked along the quiet ancient walls and got a little lost in the twisted streets. I was thankful for the thermal socks I had purchased earlier in the day.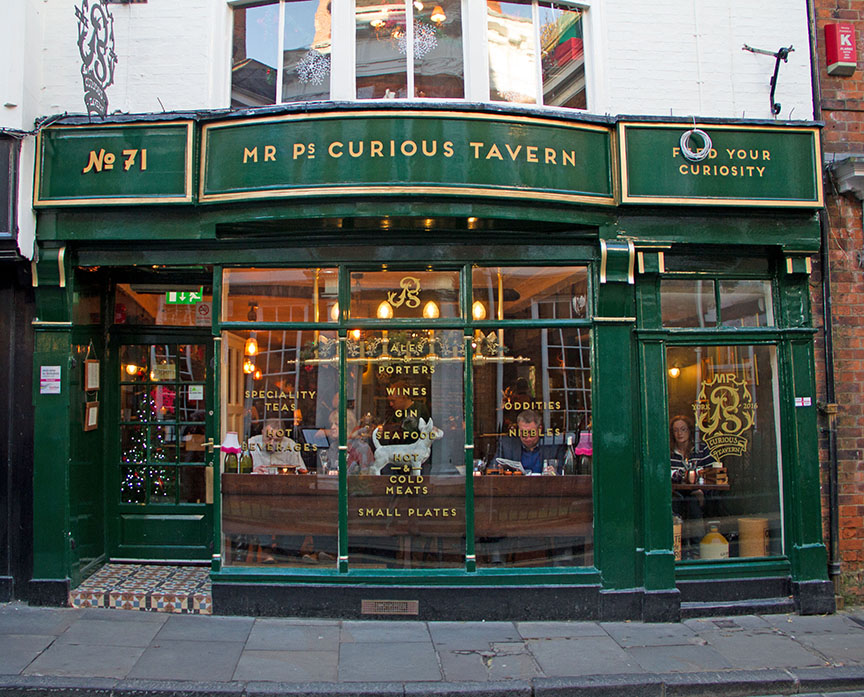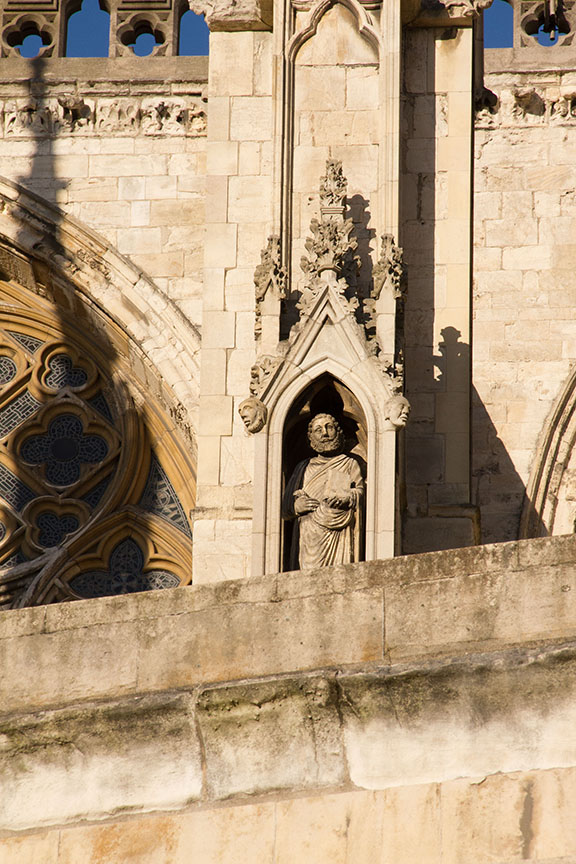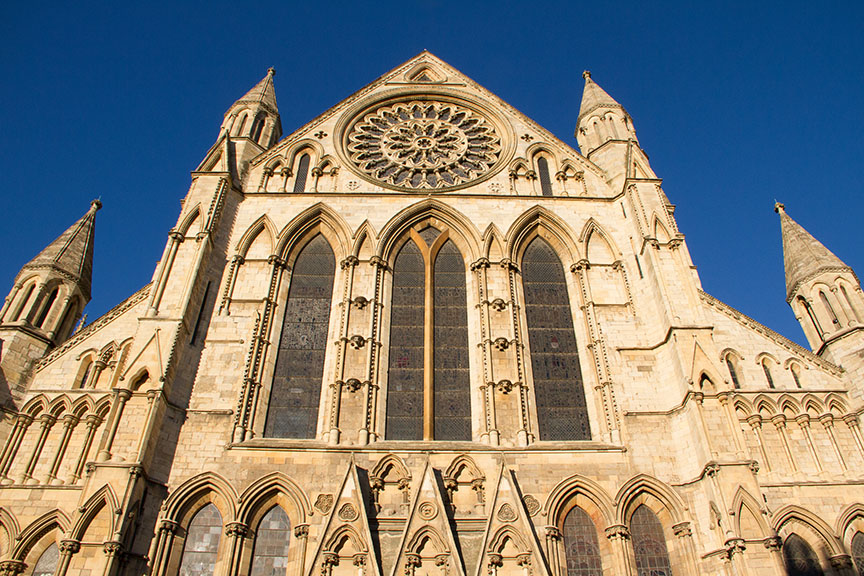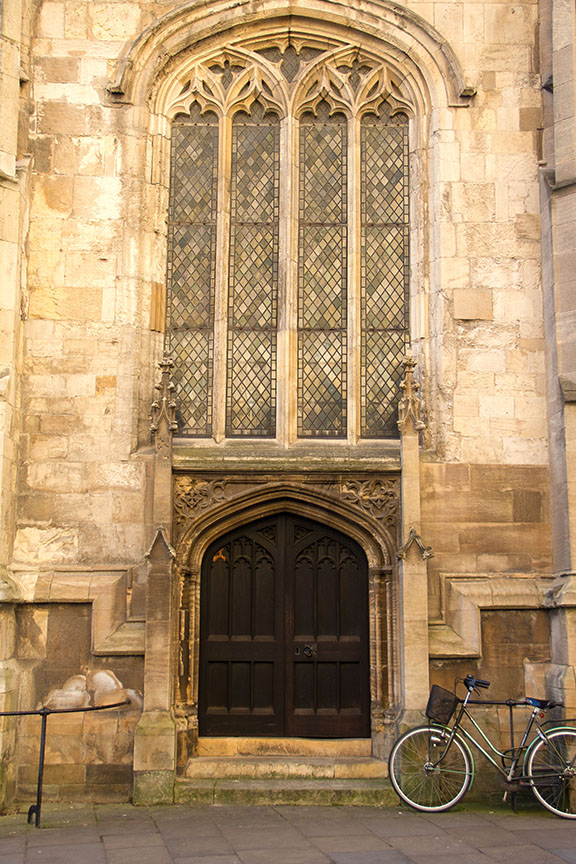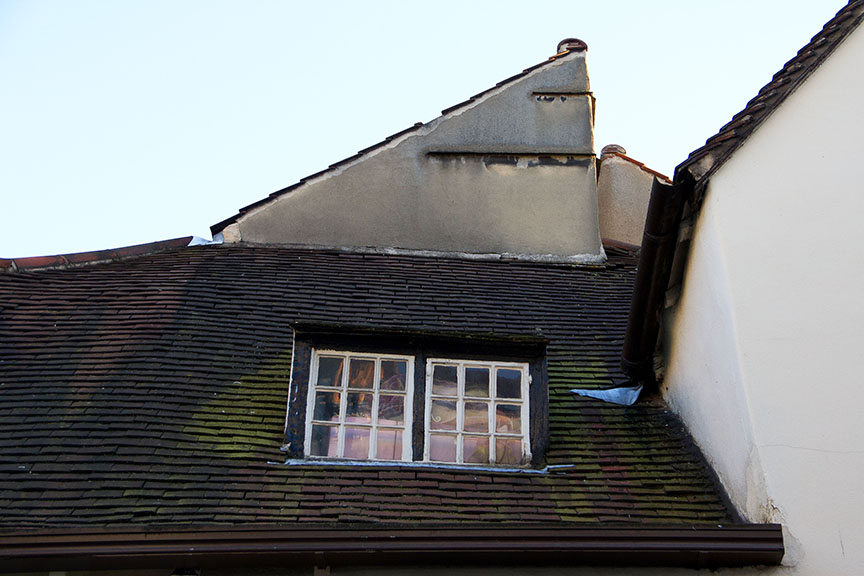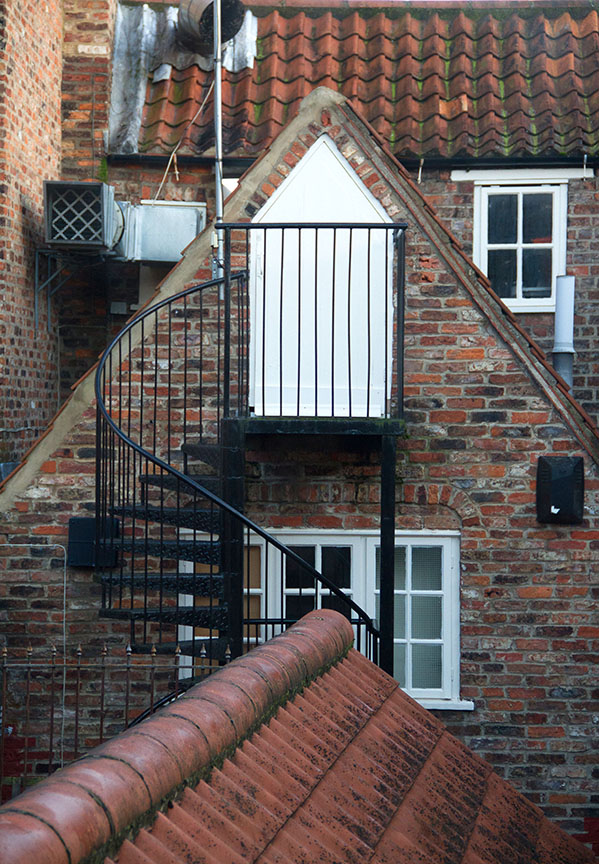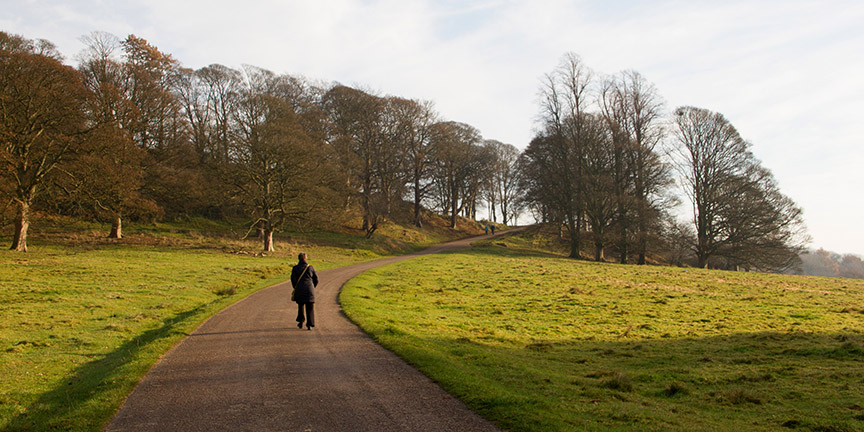 Hardwick Hall, Derbyshire. Bess of Hardwick was a formidable Elizabethan woman whose power in the North rivaled that of the only woman richer than her at the time in England, that other Elizabeth residing further South. This Countess of Shrewsbury started her house in 1590 at a time when fortifications were no longer necessary. It's ownership was transferred to the National Trust in 1959 after a series of inhabitants. This was a house of conspicuous wealth with an imposing facade of windows. "Hardwick Hall, more glass than wall" was a saying of the day. It was built adjacent to Hardwick Old Hall that had been gutted by fire. We walked past the ruin after a long trek uphill from the auxiliary car park.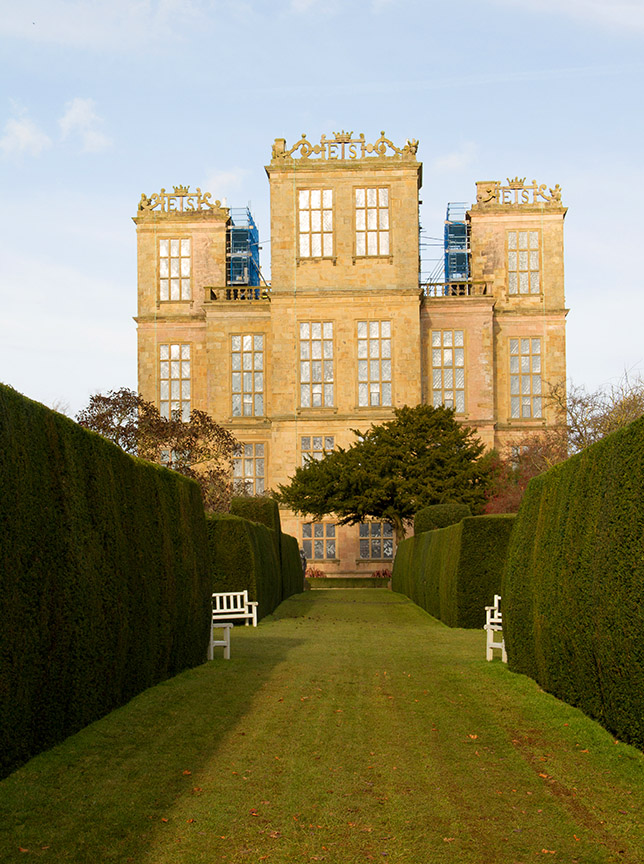 This hike also took us past some interesting out buildings, around the verdant gardens and through some real English mud.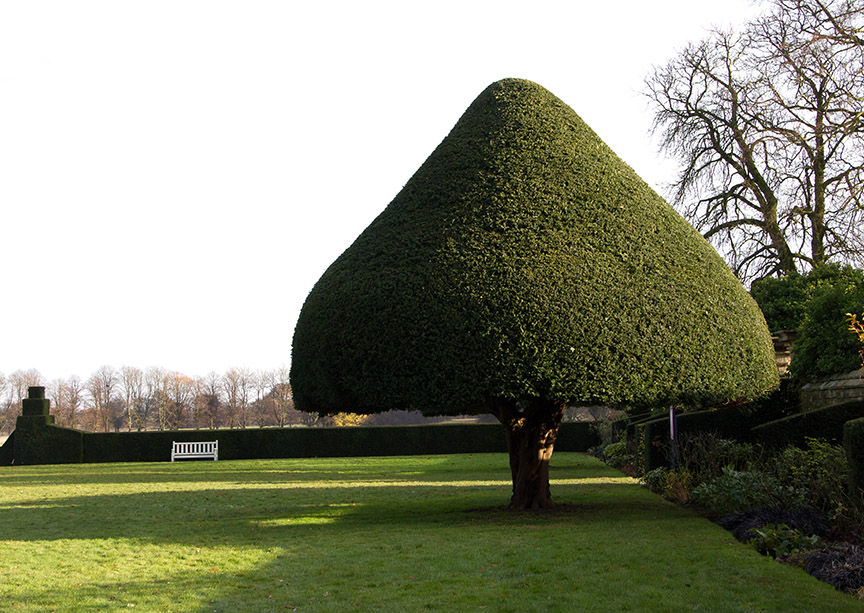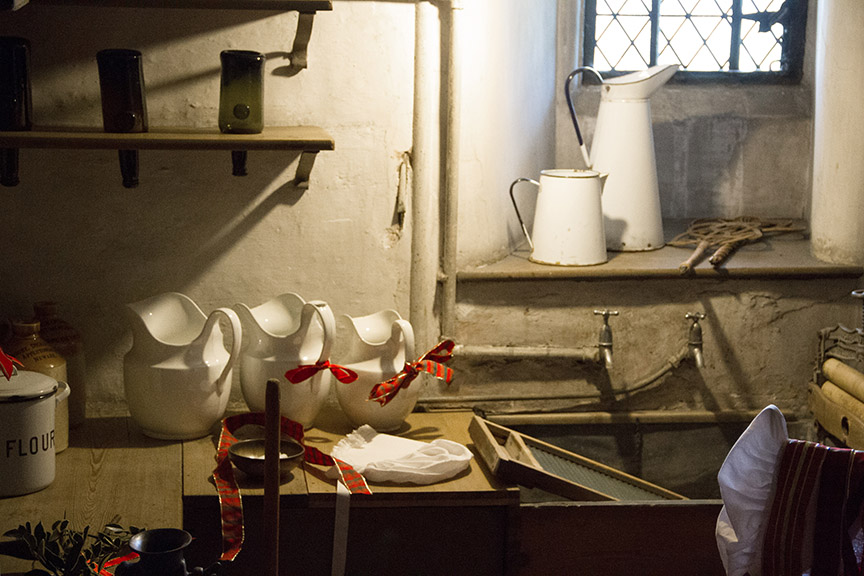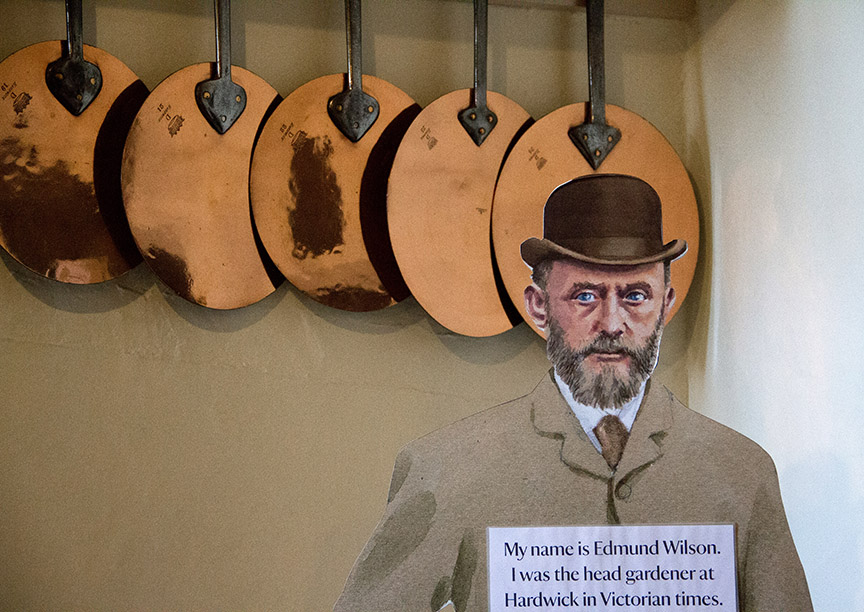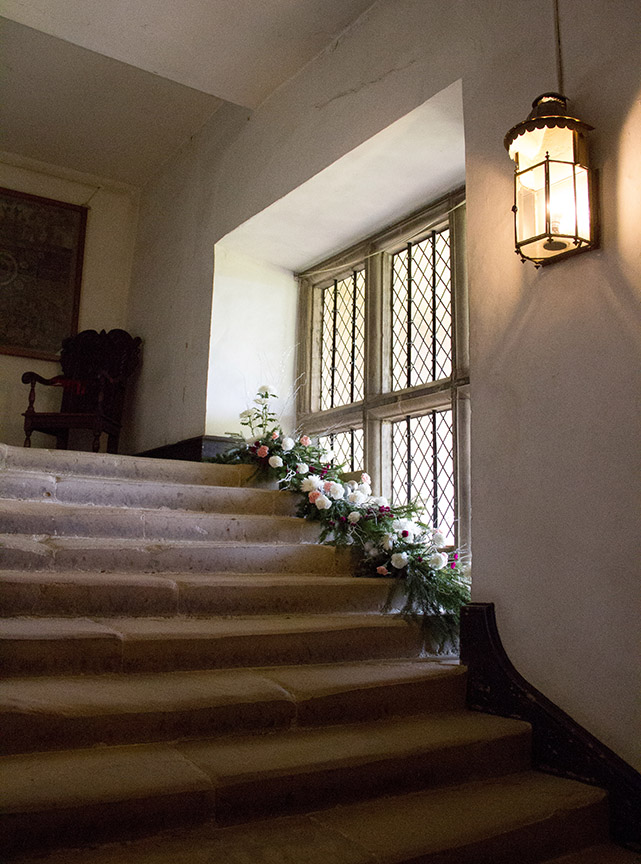 After a warming lunch in the converted stable, we trudged back to the Astra and made a plan for the remainder of the day. We had one more night on the road and hoped to have an easy drive into London the following morning. We had read about Stamford, "the finest stone town in England," and it was very close to the home of our longtime "neighbors" at the White Stallion. We booked a hotel in Peterborough, their home town, and made plans for a meet up after our stop in Stamford. We stumbled onto a municipal car park and took a short walk as the sun set the sky afire.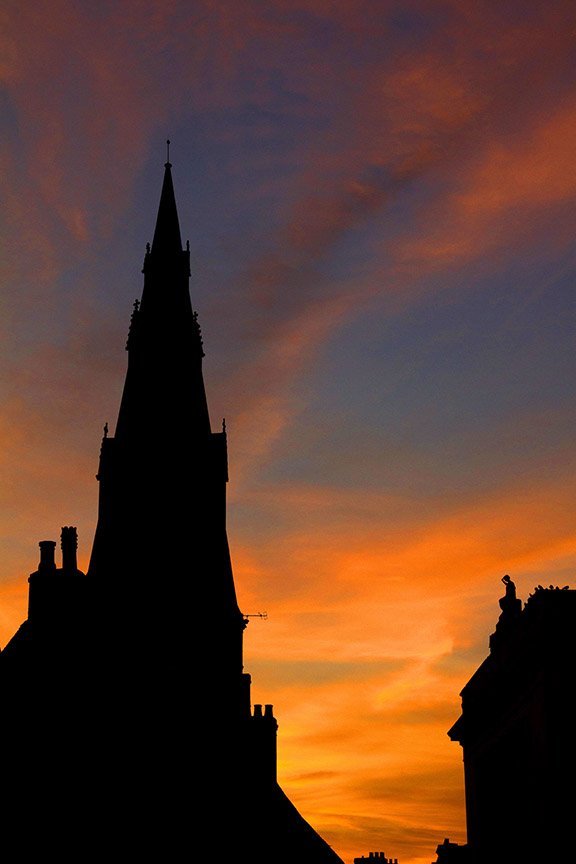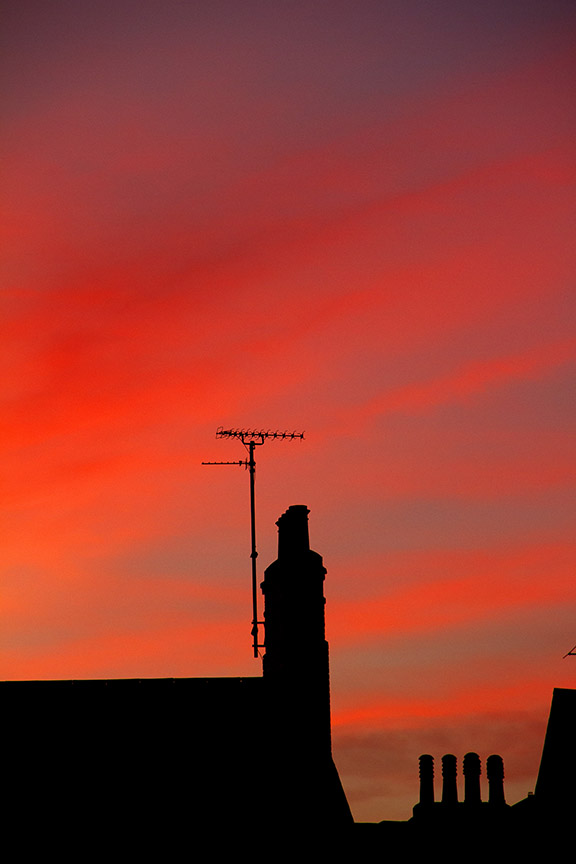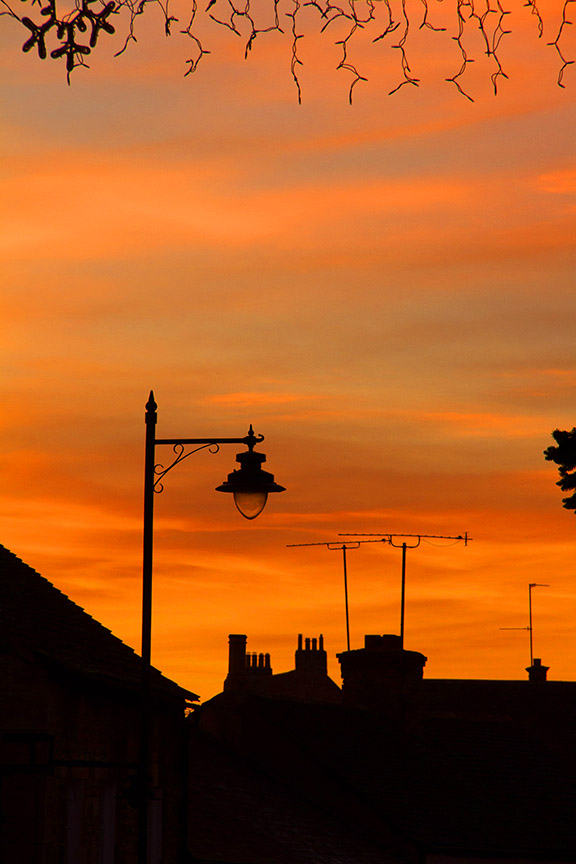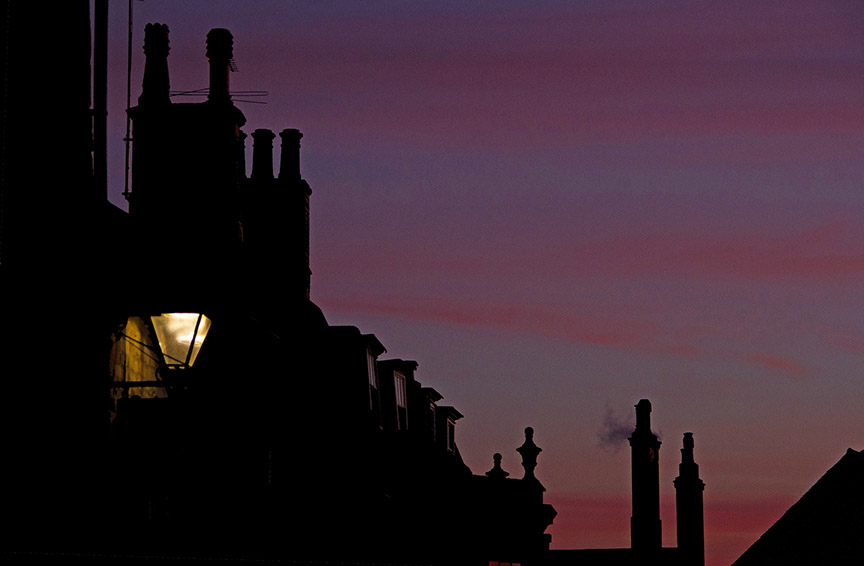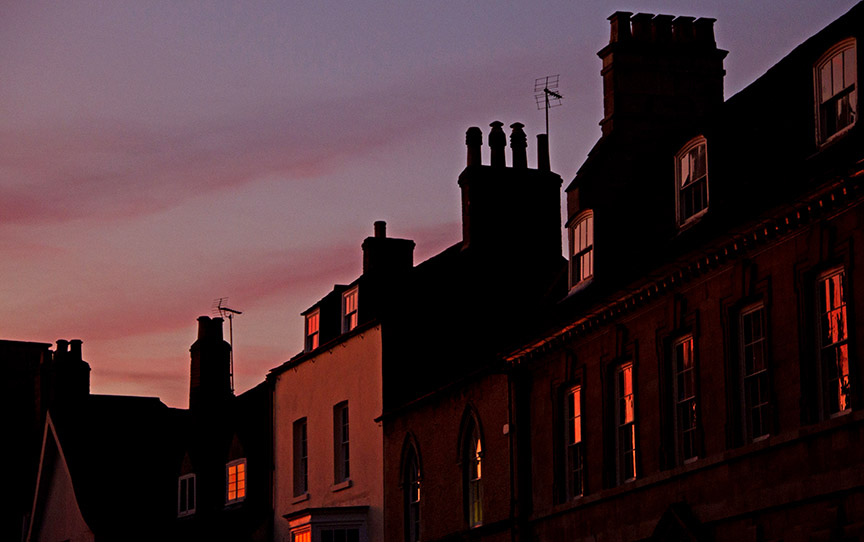 We exited the car park into a solid line of traffic and snaked slowly towards the motorway to Peterborough. We carefully merged right and became part of the rapidly moving rush hour stream flowing south. I had a feeling my lights weren't on but the enveloping traffic illuminated the highway and added to my uncertainty. After several passing motorists assaulted me with their bright beams, my suspicions were validated. After a journey of almost 800 miles, I realized I had never driven at night and never manually put on my headlights! With nowhere to pull off and traffic moving at a quick pace, I willed myself to the appropriate exit. It was a very tense race between an impending shotgun divorce and me reaching complete melt down. I feared pulling over and trying to re-enter the flow without any lights in case there was a mechanical issue. When I finally got off the main roadway, I soon discovered the necessary dial and limped to our motel shaken but not stirred. Later that evening, our friends took us to the Cuckoo, a local pub where, safely tucked into our booth, we ate meat pies and talked for hours.

London. When I booked our Eurocar the decision was made to return the vehicle in the city as close to our hotel as possible. After almost a week driving, I didn't want to deal with the airport return and subsequent trip in to London with our baggage. A rental location was available just a short walk from our Bayswater hotel and our ride down was pretty smooth until we were a few blocks away from our final destination. Construction along Hyde Park shut down some lanes and as we crawled closer we saw that we couldn't make our right turn into Elm Mews and the car return. We circled around tediously and ended up in the perfect lane to make the easy left into the Mews. Traffic was stop and go and we were behind a large bus with little visibility of the road ahead. As the line started moving, we sensed the next break on Bayswater Road was our left and we made a quick move as the bus inched forward. Directly in front of me was a gated alley, full of dumpsters! Elm Mews was actually another few yards further up the road. After some trucks passed by, ignoring our plight, my wife stopped traffic and a friendly motorist allowed us to shift into reverse and back up onto Bayswater. I drove the few yards and we abruptly surged left to the promised land. Our road trip was over. We were still breathing, still talking and anxious for the next phase of our adventure.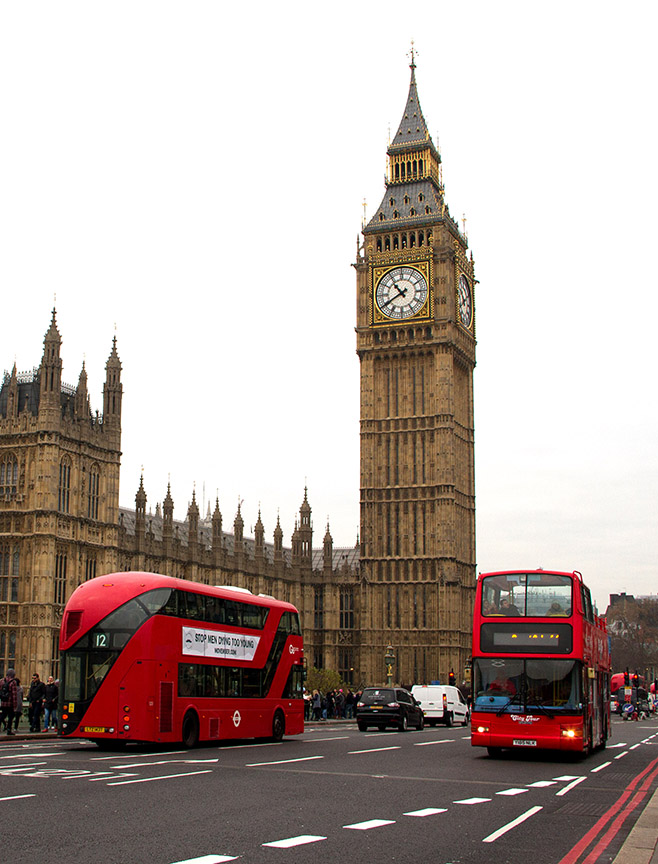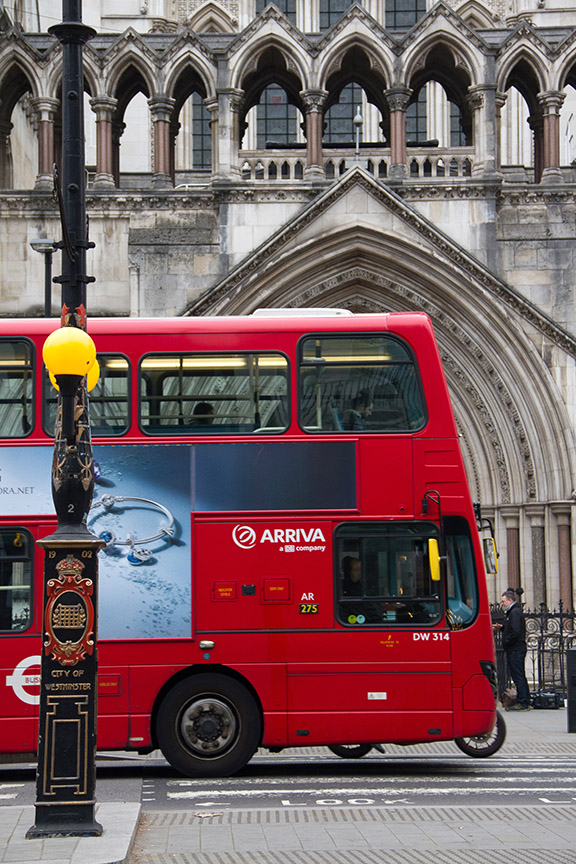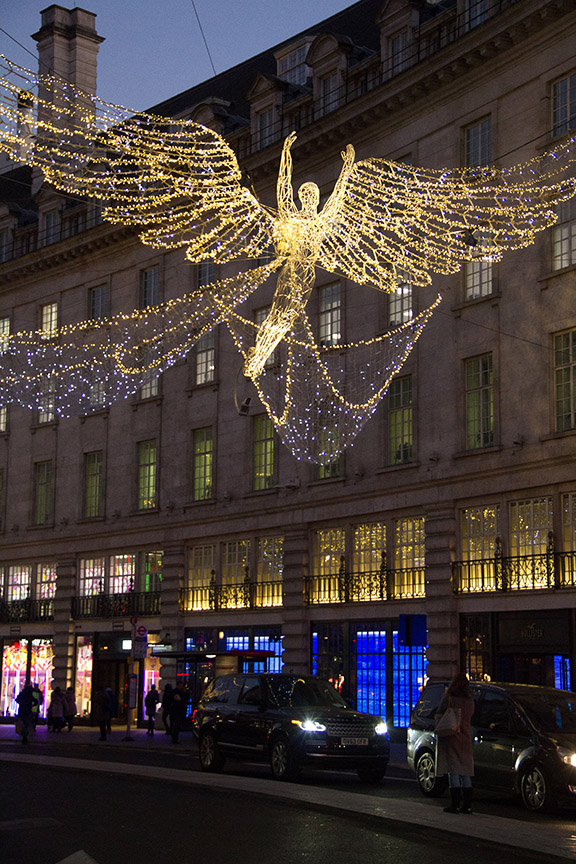 It was almost thirty years since my last trip to London. It would be a four day whirlwind of sightseeing, shopping and visiting. We dropped off our bags, juiced up our Oyster Cards and took the Underground to the action. The streets were packed with visitors and Christmas was in the air.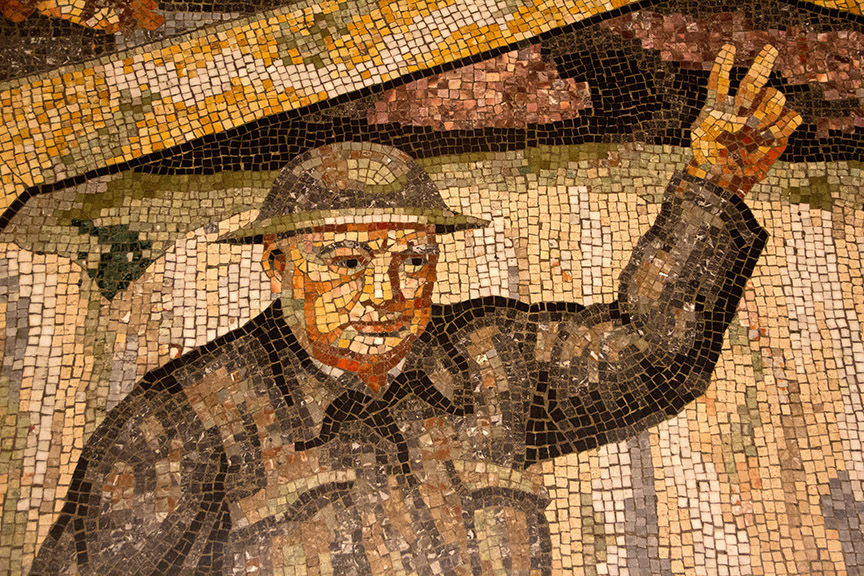 The development of waterfront property is an exciting trend in urban renewal. We see it happening all over the world. In large cities and small towns, forgotten areas of failed industry and vacant warehouses become vibrant mixed-use neighborhoods and a subsequent economic boom in previously stagnant areas is the welcome result. One morning we took the tube down to Westminster and crossed over the Thames for a long walk along it's bank. Surrounded by tourists, there was excitement in the air. We marveled at the variety of architecture surrounding the river and the proliferation of construction cranes on both sides of it's banks.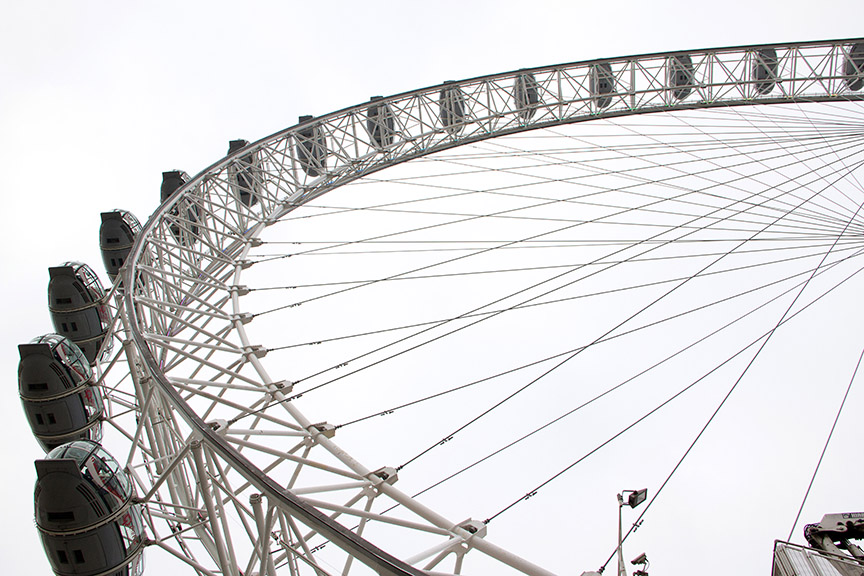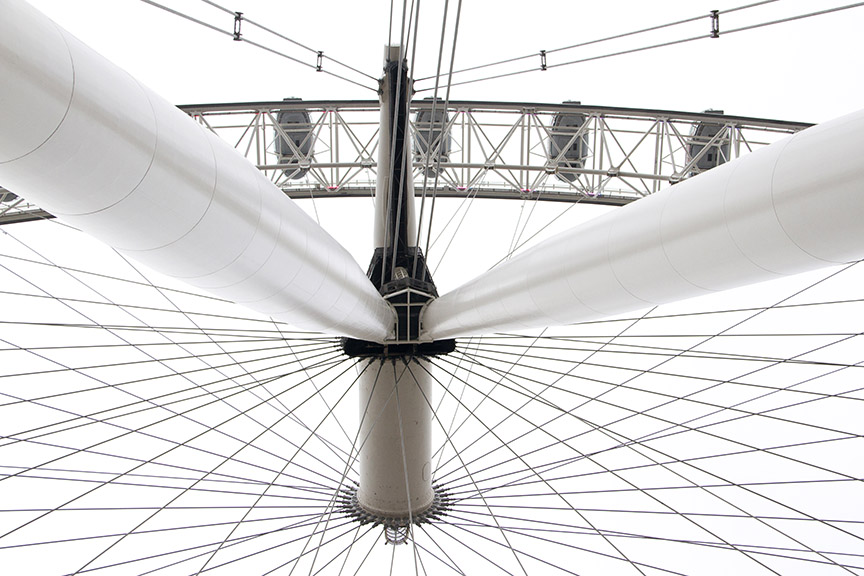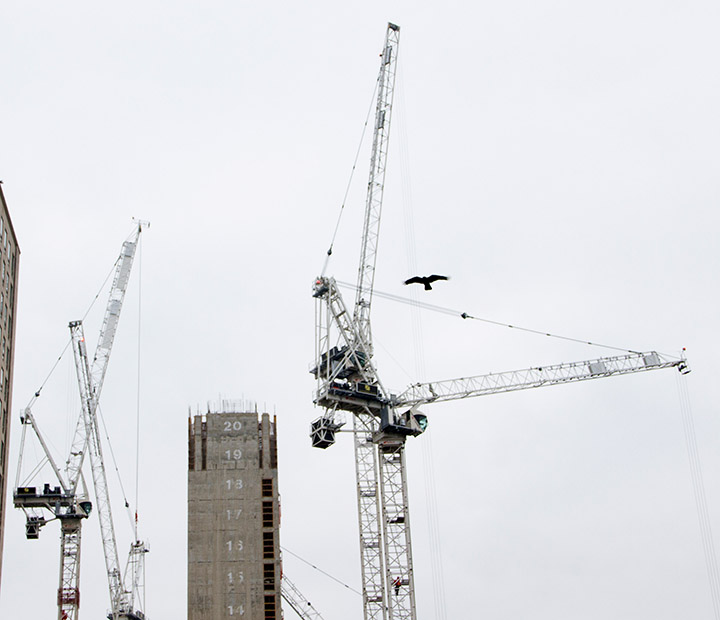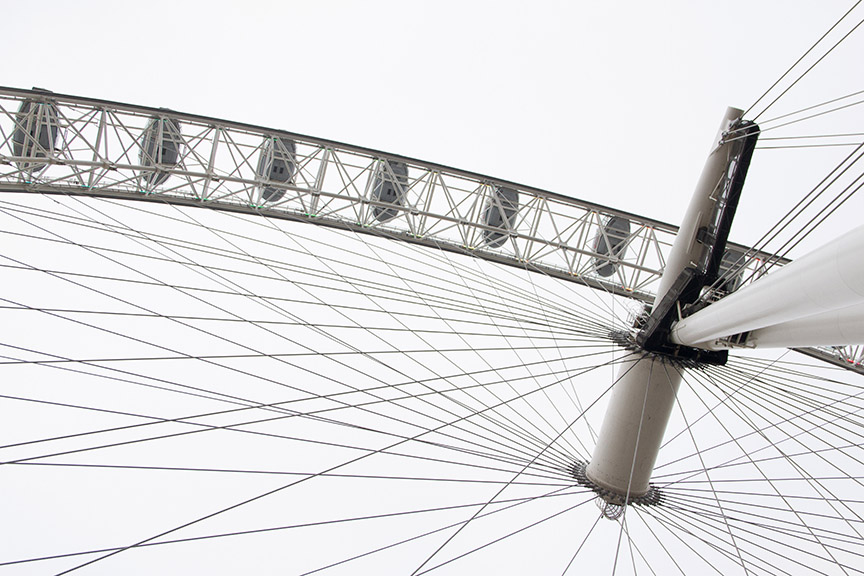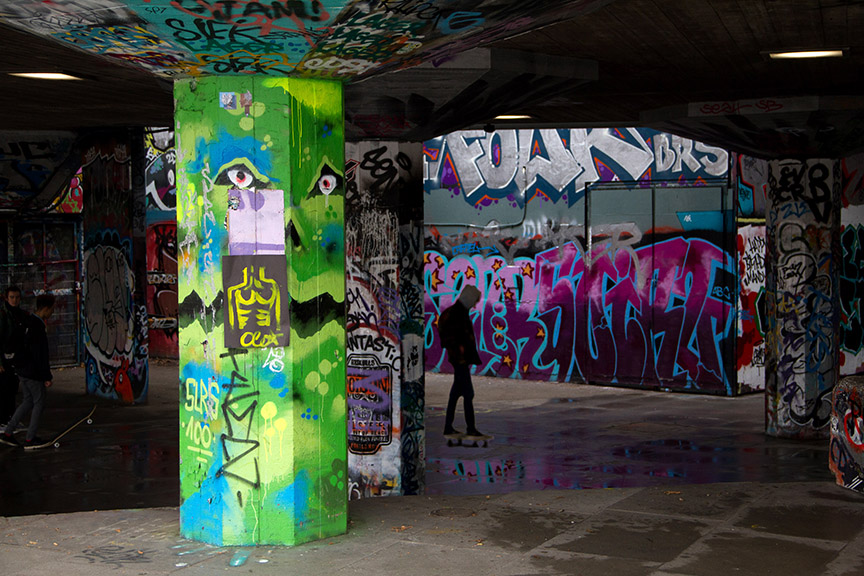 Under the Southbank Center, near Waterloo Bridge and the National Theater.
We crossed back over the Thames and on the bridge had our first view of the Gherkin. This is London's most recognizable new skycraper and was opened in April of 2004. Located in the City of London, it's site had been the location of an IRA bombing. For me, along with the London Eye, it was symbolic of a city that had changed so much since my last visit.
Our next destination was the Temple Church.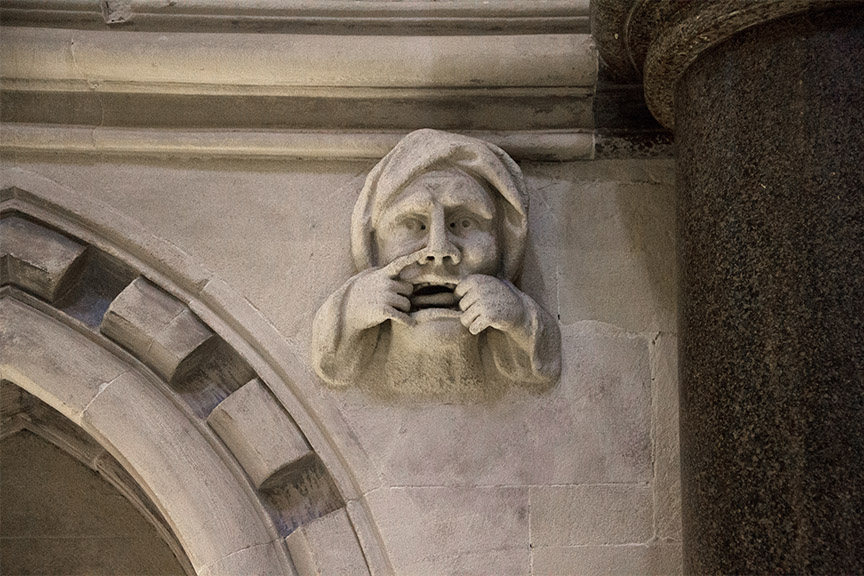 Built by the Knights Templar in the 12th Century, this impressive church was tucked between Fleet Street and the river. Surrounded by ancient buildings and courtyards, it was a quiet place to spend some time. I took too many pictures here. The faces surrounding the Round Church captivated me as they were faces of the 12th Century and were barely different from those I saw on these streets earlier in the day.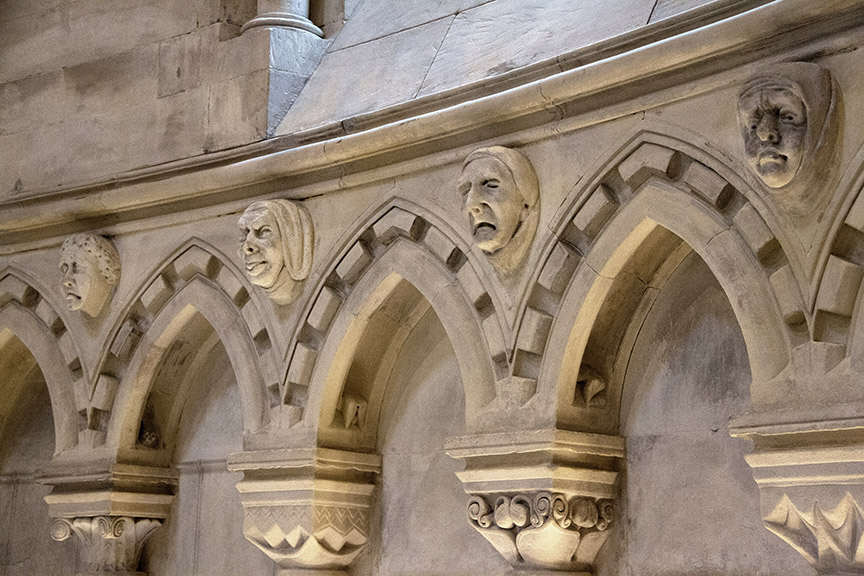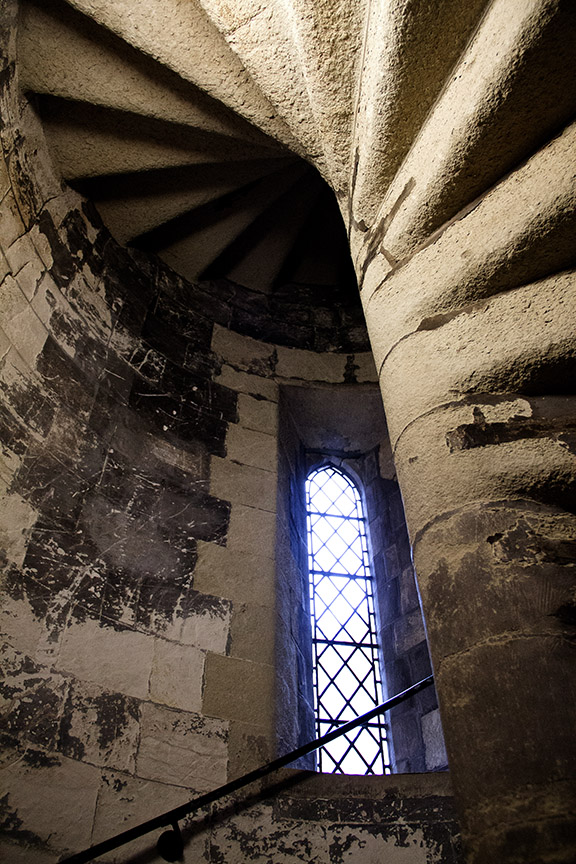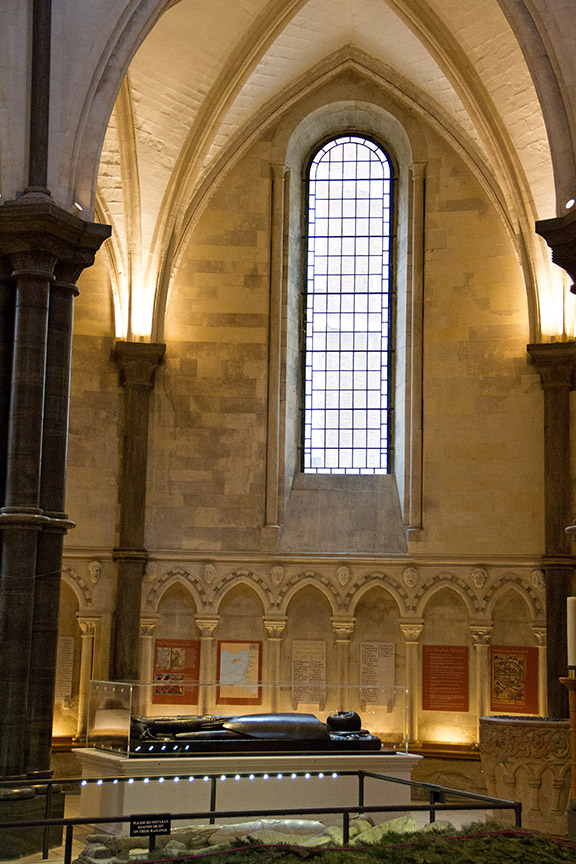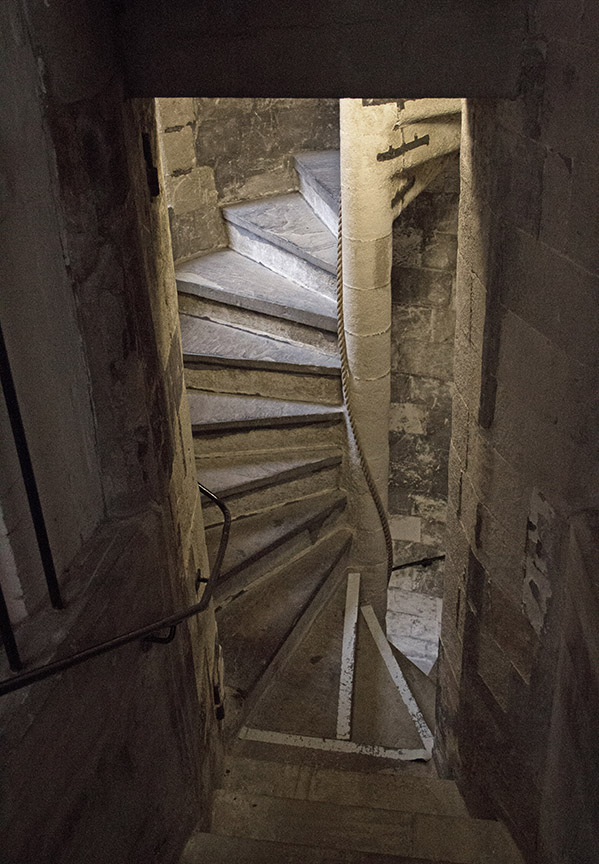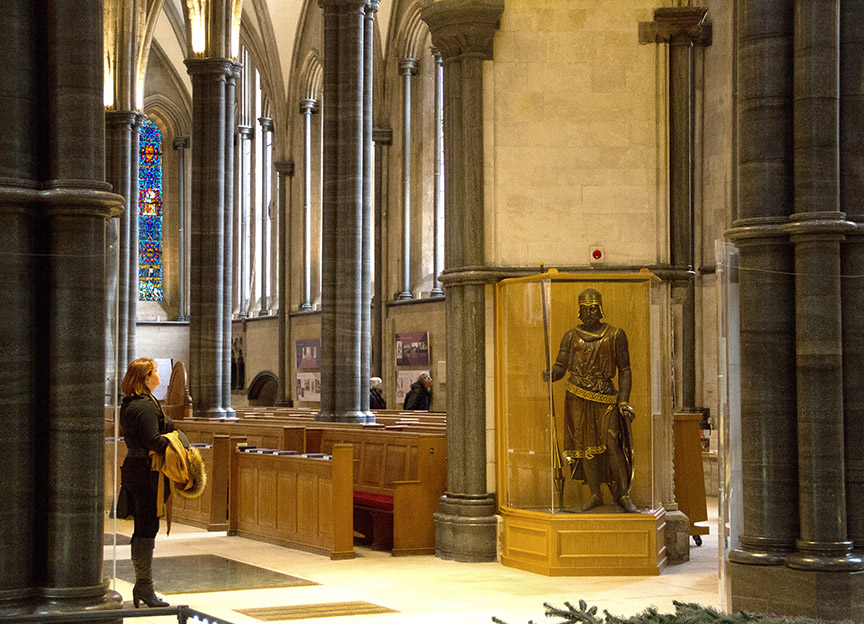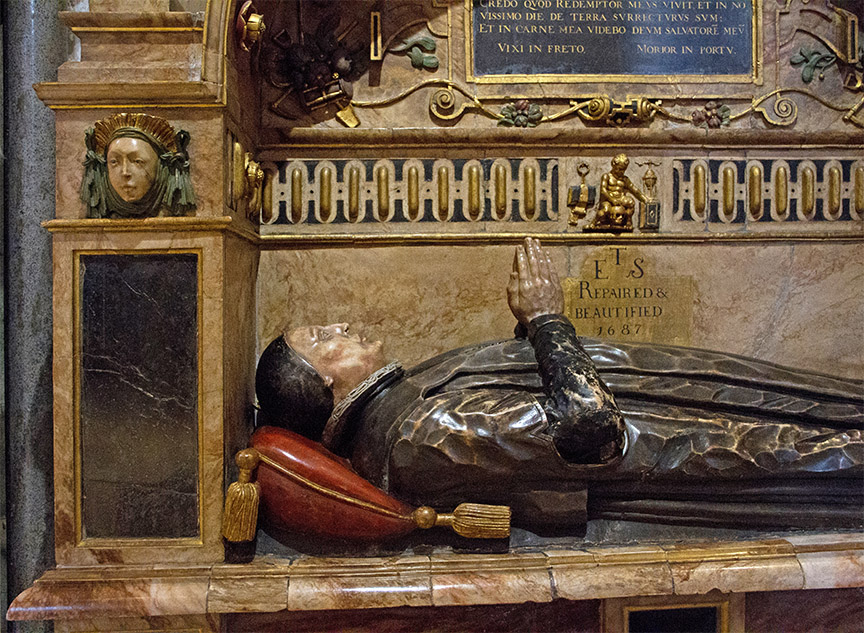 The energy in the streets was overwhelming. Maybe it was the anticipation and obligation of the coming Christmas. Perhaps it was the juxtaposition of so many diverse cultures. We found ourselves often struggling to stay together in the sea of humanity, often surrounded by unrecognizable languages. The vibrancy of the city was reflected in the street art that colored the urban landscape. We cruised Shoreditch, shopping, eating and soaking up the youthful vibe and stylish fauna.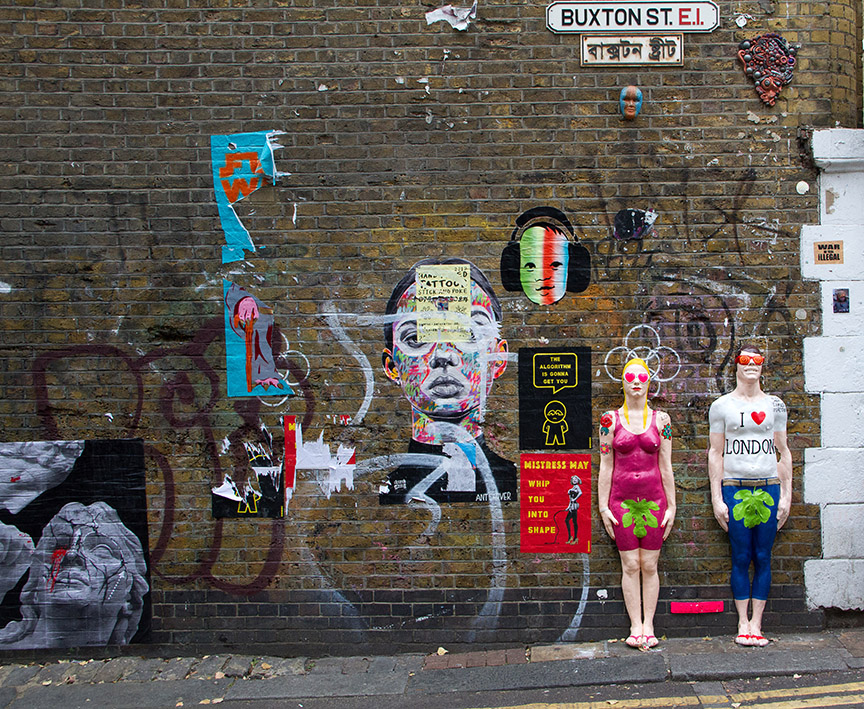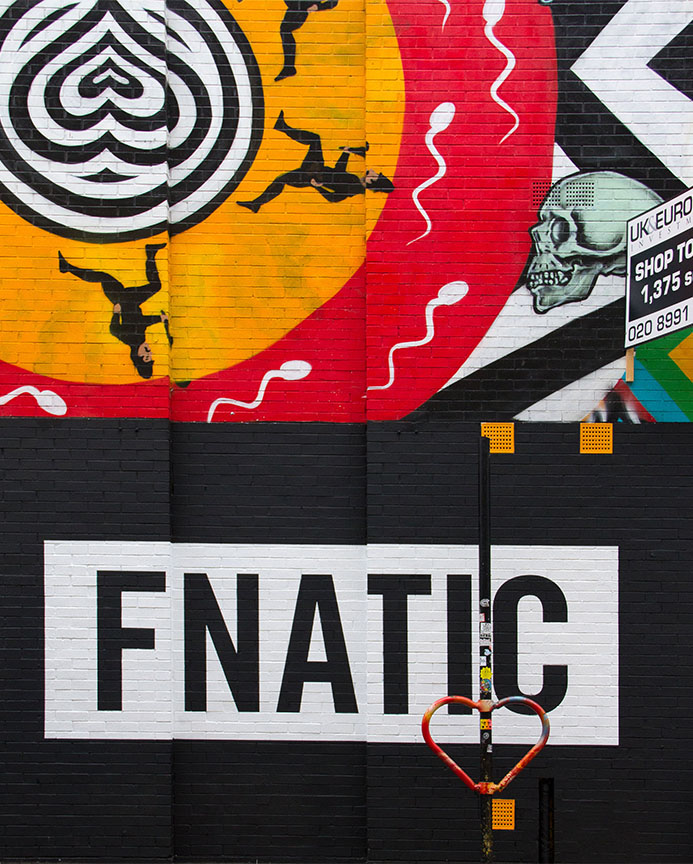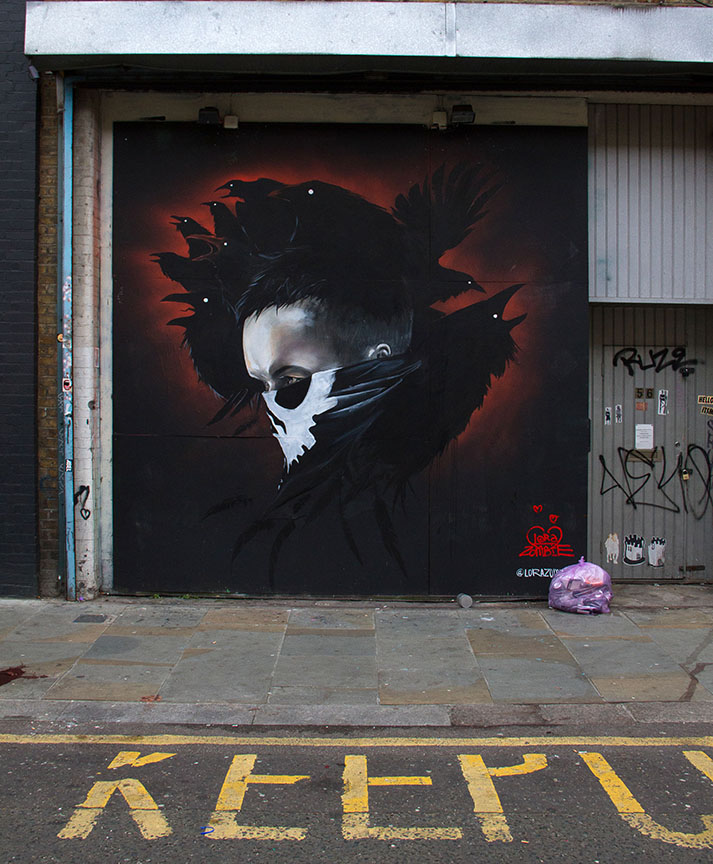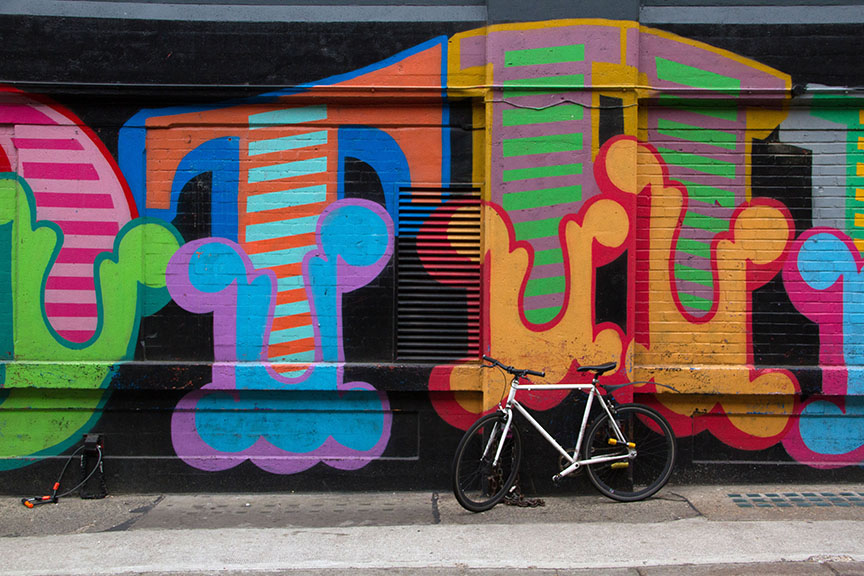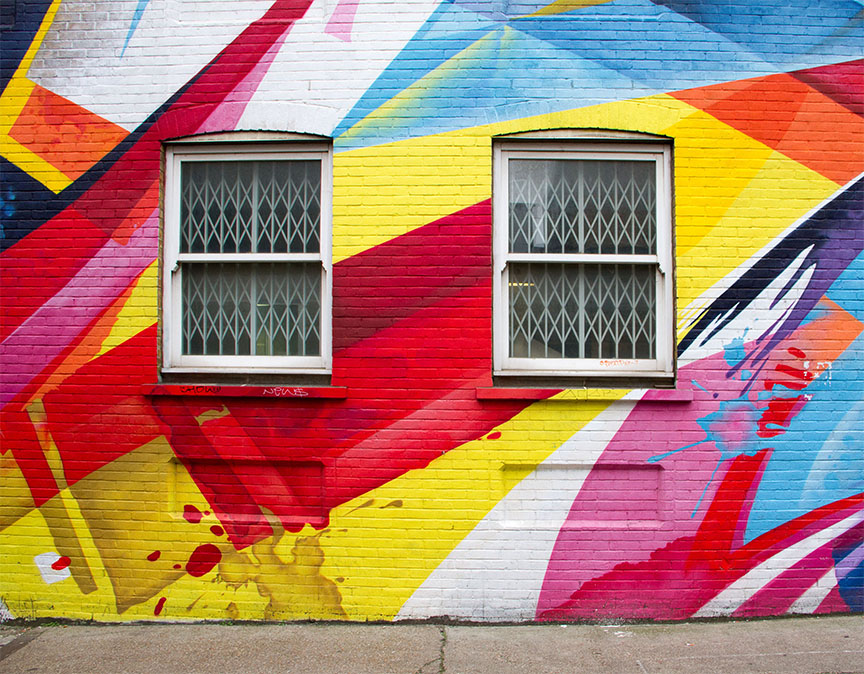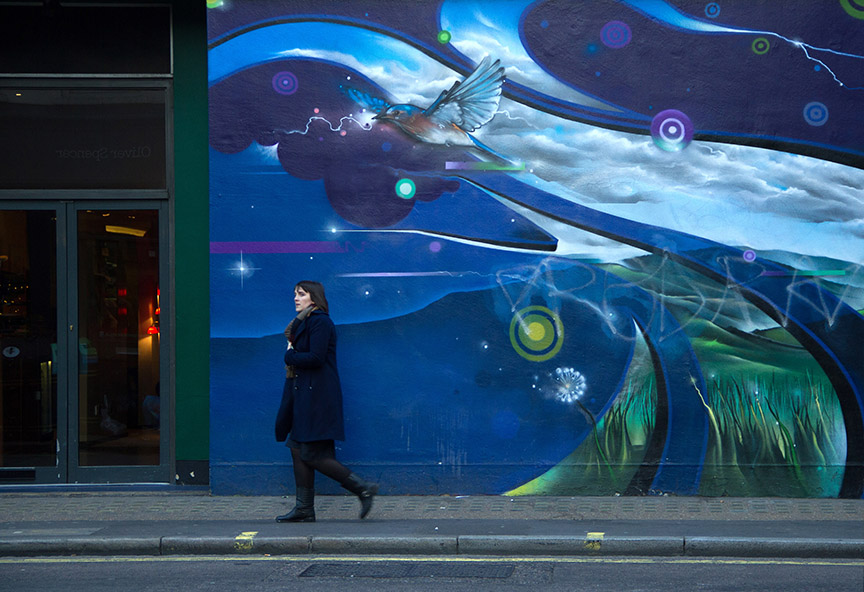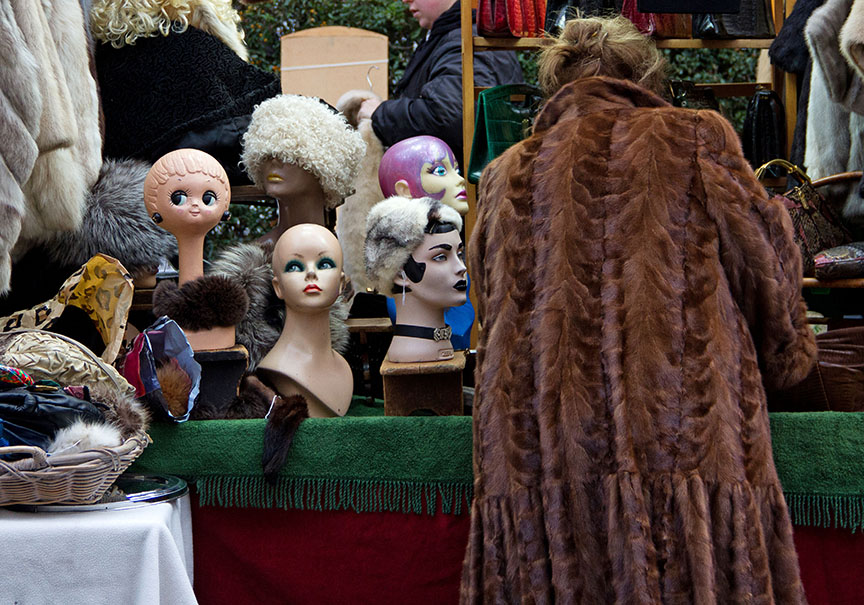 We walked miles on that Friday and packed as much as we could into the daylight hours. That evening we went back to Piccadilly and had a joyous dinner with friends from the Ranch that lived in various suburbs outside of London. Later, after we were kicked out of the restaurant due to an incoming party, we drank at a crowded pub and said our goodbyes at the Underground where we split up into three directions. We felt blessed that so many people took the time to come and see us throughout our journey and filled the cold English nights with warmth.
We set an alarm and got up very early on Saturday to visit Portobello Road Market. It was a nice walk from our hotel and we arrived as the stalls were setting up. Our exploring done, we were like salmon swimming upriver as a constant stream of people approached as we exited back up the crowded street. We did right to come so early.
We went our own ways after we arrived at my wife's Trade Show in South Kensington. I planned to spend the afternoon up in Camden with an old friend from back home who has lived here for over two decades. We played many gigs together back in the day. It would be good to hear some Brooklyn English…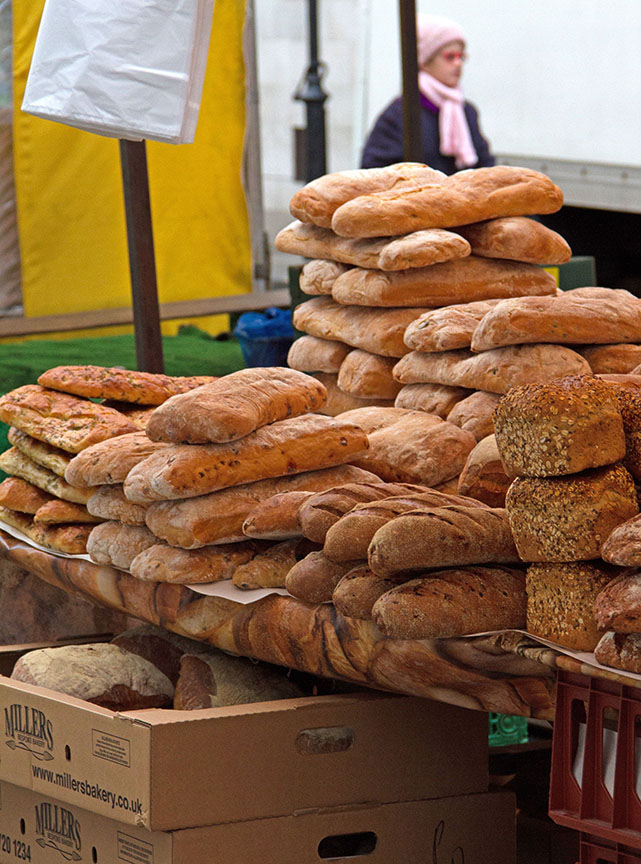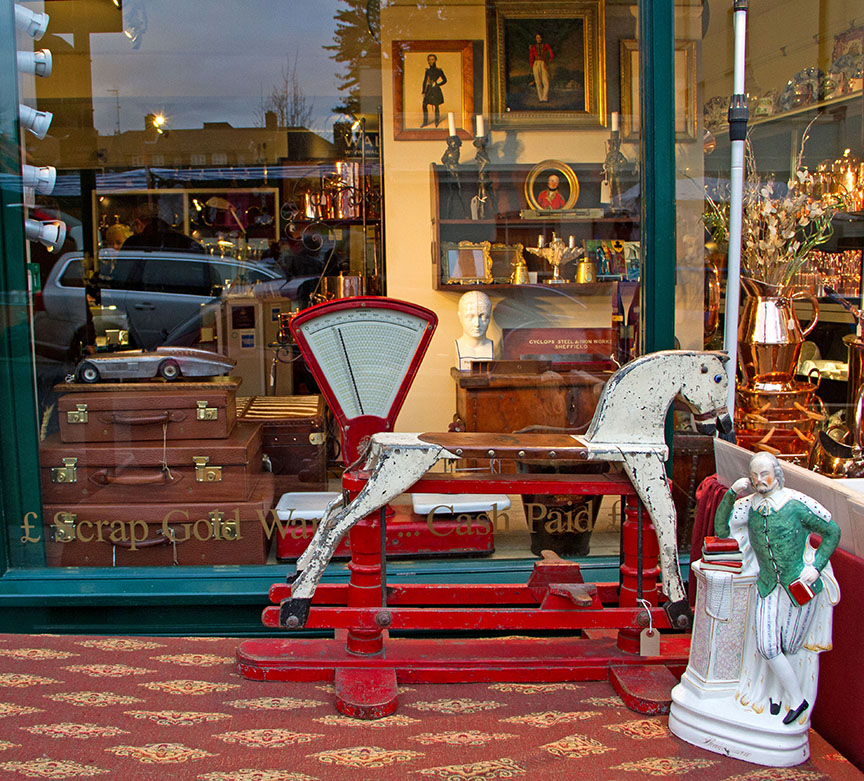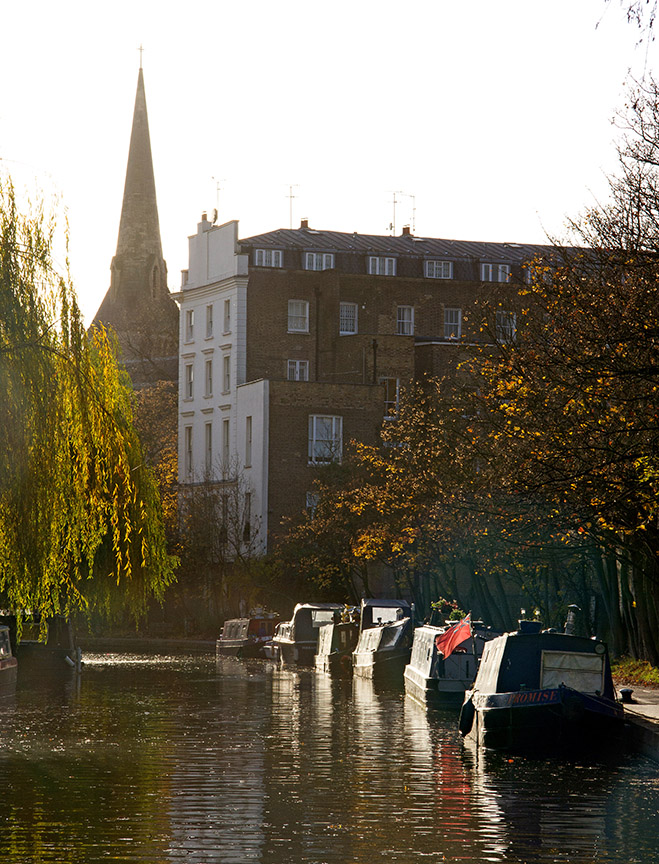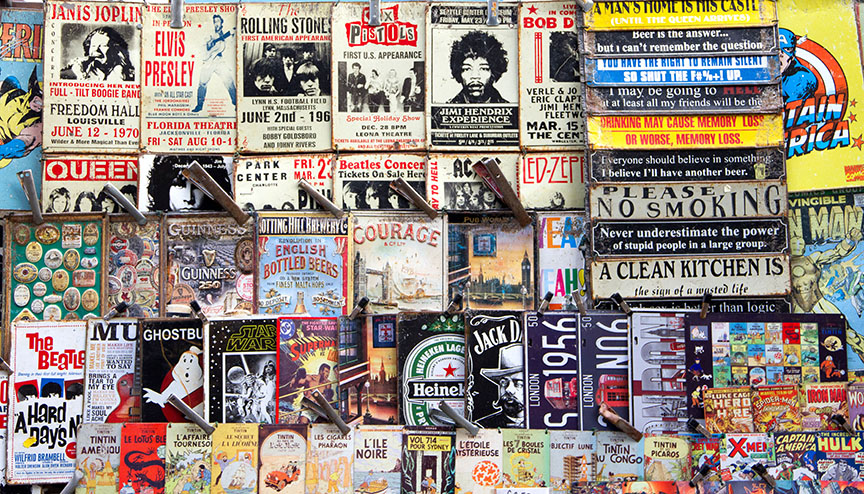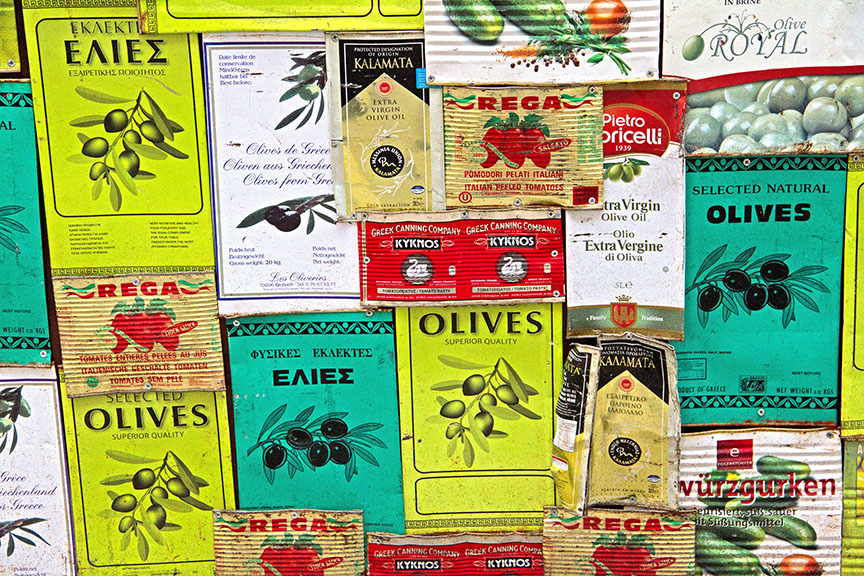 Our Sudbury friends came down to London to join us for our last full day in town. We secured tickets for the exhibition "You Say You Want A Revolution," an exhilarating multimedia trip through the 60's at the V and A Museum. I got chills as I viewed a life size Sgt. Pepper cover, complete with some of the actual costumes worn. Fragments from a smashed Jimi Hendrix guitar, Keith Moon's illustrated drum kit and an explosive Woodstock soundtrack in the final room was an appropriate closing to our day at this fantastic institution. If photography was allowed, I might still be there. We wandered through the Food Court at a packed Harrods, were lit up by Winter Wonderland in Hyde Park, had fresh hand pumped ale at a pub in Paddington, dined in Covent Garden and said our good-byes on a crowded train platform. A perfect end to the perfect movie…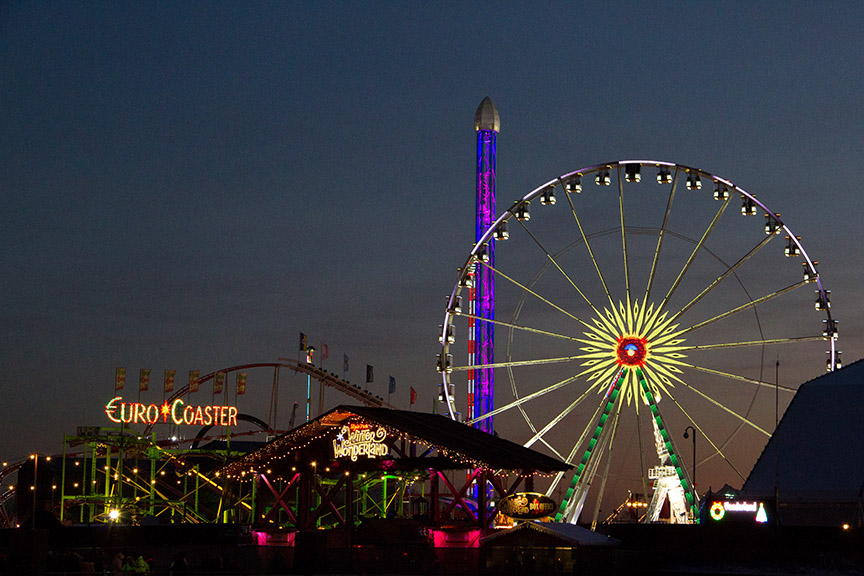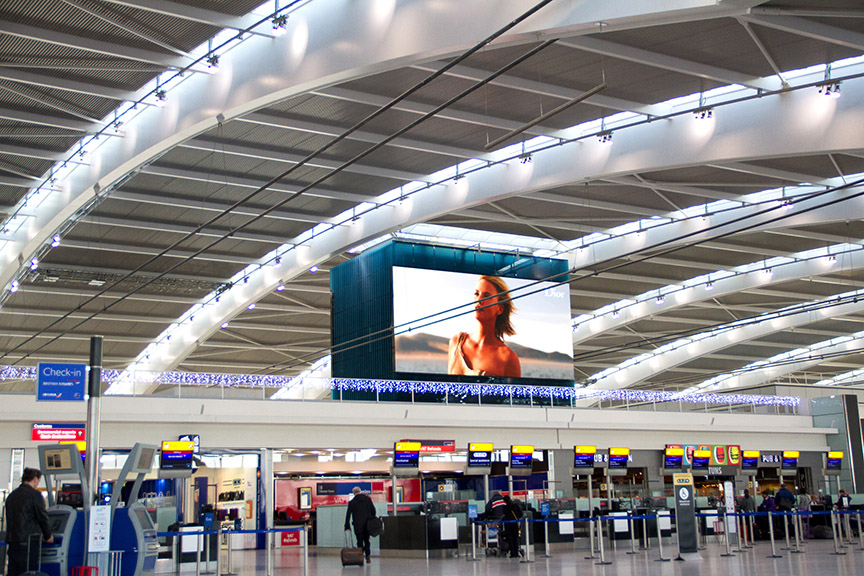 Epilogue. It was fitting that there were problems on the Piccadilly Line the following morning as we left for Heathrow. Our early start helped keep up our spirits as we were squashed and squished against the doors of the train, our suitcases lying obedient at our feet. It seemed as if the last few days were spent in a crowd. British Air Terminal 5 was beautiful and efficient, with plenty of room to breathe. We boarded our plane and spread out over some vacant seats as soon as the seat belt sign went off. Two movies and two meals later we were back home. Our bags were full of chocolate, our heads were filled with memories and the Navigator had a new scarf…
Many thanks to all our friends that helped to make this an unforgettable adventure. We love you all. Cheers and Giddyap!